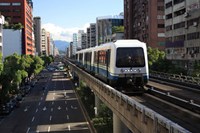 The Australasian Railway Association (ARA) welcomes the ACT Government's announcement that it has signed a $710 million contract with the successful light rail consortium, Canberra Metro, to build and operate light rail in Canberra.
"This major infrastructure project in the nation's capital will create jobs and revitalise not only the inner city of Canberra, with a new area to be called Civic Plaza, but also the centre of Gungahlin, Canberra's fastest growing region, where the first 12 kilometre in what will be a broader light rail network will commence," said ARA Chief Executive Office, Danny Broad.
"The debate over light rail versus bus is nonsensical and entirely misses the point. The best approach is to find a way for the two to work together to provide a world-class public transport system for Australia's capital city.
"Canberra has one of the lowest rates of public transport usage in Australia. More buses on the network is not the solution. Light rail, cleverly connected with buses, cycle-ways and car-parks is a modern solution already embraced by cities around the world.
"It is common for Australian light rail projects to initially face political and public opposition. But when testing commences, that negativity is replaced with support and calls for an extension of the network.
"It's time for the Canberra Liberals to get behind light rail in Canberra and embrace this change along with the many benefits it will bring to Canberra.
"Politics should be put aside. Canberrans voted for light rail at the last ACT election in 2012 and the Canberra Liberals must accept and respect the voice of the electorate.
"The Capital Metro project will transform Canberra. We should not let political bickering see taxpayer dollars thrown out the window," said Danny Broad
About ARA
The Australasian Railway Association (ARA) is the peak body representing all passenger, freight, track operators and the wider rail supply industry in Australia, New Zealand and Indonesia.
Our fundamental purpose is to create an environment that will permit the Australasian rail industry to prosper. When issues arise that affect the whole industry, the ARA takes the lead facilitating an industry response.
The ARA is actively involved in the development of rail policy to ensure the industry's views are represented.
As well as shaping policy in the areas of passenger, freight, rail safety regulatory reform, the environment, technology and research, the ARA is also involved in programs aimed at improving the productivity, capacity and overall safety of the Australasian rail industry.
Our vision
The Australasian Rail Industry's vision is that rail will become the transport mode of choice because of its economic, environmental and social advantages. In achieving this we aim to provide enhanced passenger services for our communities and have more trains carrying increased volumes of bulk freight and goods.