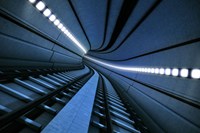 Coming off the back of the announcement that the Federal Government has agreed to release $1.5 billion in East West Link funds for infrastructure projects in Victoria, the Australasian Railway Association calls on government to prioritise the Melbourne Metro Rail project.
The ARA's Chief Executive Officer, Danny Broad, has commended the release of funds towards the state's infrastructure. "Funding for Victoria's key infrastructure projects is essential; it's pleasing to see the Federal Government looking to inject funds into the state. Such funds will work to address a number of serious economic, social and environmental problems with traffic congestion," said Mr Broad.
"With reports that the Melbourne Metro Rail project is on the priority list, we hope the Victorian and Federal Governments will work together to make the right choice and channel funds towards this crucial urban transport project. The Metro Rail Project will not only increase the capacity, reliability and efficiency of Melbourne's busiest train lines, but will also provide much needed growth for the state's economy. With the population expected to almost double by 2050, the Government must invest in Melbourne's public transport system to maintain the liveability and prosperity of our growing city.
"It's enlightening to see recent collaborative efforts between the Federal and State governments in the area of infrastructure; it's unfeasible for state governments to be expected to foot the bill for increasing rail passenger infrastructure to service our cities.
"The government needs to also consider investment in an integrated transport system that links our roads, rail and ports to help move the growing numbers of people and goods across Australia. The ARA looks forward to working with all levels of government to offer informed advice for investment in our rail industry, ensuring a better rail future for all," said Mr Broad.
About The Australasian Railway Association (ARA)
The Australasian Railway Association (ARA) is the peak body representing all passenger, freight, track operators and the wider rail supply industry in Australia and New Zealand.
Our fundamental purpose is to create an environment that will permit the Australasian rail industry to prosper. When issues arise that affect the whole industry, the ARA takes the lead facilitating an industry response.
The ARA is actively involved in the development of rail policy to ensure the industry's views are represented.
As well as shaping policy in the areas of passenger, freight, rail safety regulatory reform, the environment, technology and research, the ARA is also involved in programs aimed at improving the productivity, capacity and overall safety of the Australasian rail industry.
Our vision
The Australasian Rail Industry's vision is that rail will become the transport mode of choice because of its economic, environmental and social advantages. In achieving this we aim to provide enhanced passenger services for our communities and have more trains carrying increased volumes of bulk freight and goods.