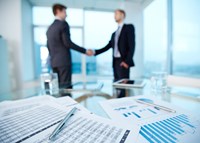 Today, representatives from the rail industry came together to meet with Commonwealth Ministers to discuss the need for a National Rail Industry Plan for the Benefit of Australia.
"Today is a significant day for the rail industry as we build momentum for a National Rail Industry Plan and meeting with Commonwealth Ministers is our first step," said Danny Broad, Chief Executive Officer, Australasian Railway Association (ARA).
"The rail industry makes a significant contribution to the Australian economy. Investment in rail by Australian Governments will be in the order of $100 billion through to 2030. We are meeting with Commonwealth Ministers today to say – we need a Plan to coordinate this effort and we need your support.
"Through better coordination and long-term certainty, we can ensure the industry is well positioned to take advantage of all the lessons from the past and position ourselves for the future.
"The Commonwealth Government will be investing $89 billion in naval shipbuilding through to 2055. This investment will be supported by a Naval Shipbuilding Plan. Rail's contribution to Australia is no less than shipbuilding.
"Next we will be meeting with State and Territory Governments, as well as Opposition representatives to discuss our Plan, seeking their support.
"To get this right we really need a combined effort by Commonwealth, State and Territory Government, as well as industry support.
"The emphasis of any National Rail Industry Plan will need to include five key areas of focus, including:
Recognising the importance of rail for Australia's infrastructure development, urban planning and freight movements.
Harmonising standards, minimising regulations and maximising economies of scale.
Growing the capabilities of individuals and companies.
Maximising opportunities for rail companies.
Fostering innovation, research and development."
About The Australasian Railway Association (ARA)
The Australasian Railway Association (ARA) is the peak body representing all passenger, freight, track operators and the wider rail supply industry in Australia, New Zealand and Indonesia.
Our fundamental purpose is to create an environment that will permit the Australasian rail industry to prosper. When issues arise that affect the whole industry, the ARA takes the lead facilitating an industry response.
The ARA is actively involved in the development of rail policy to ensure the industry's views are represented.
As well as shaping policy in the areas of passenger, freight, rail safety regulatory reform, the environment, technology and research, the ARA is also involved in programs aimed at improving the productivity, capacity and overall safety of the Australasian rail industry.