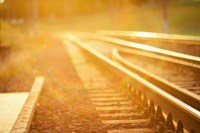 The increasing significance of Australia's rail network has been confirmed by the release of Trainline 4 today which documents growth in passenger journeys and freight movements across Australia in 2014-15.
Rail freight movements in Australia grew 11 per cent in 12 months, transporting 1.23 billion net tonnes in 2014-15, up from 1.11 billion tonnes in 2013-14.
Similarly, passenger patronage grew 5 per cent in 12 months, providing 849.48 million passenger journeys during 2014-15 or 2.3 million passenger journeys every day of the year.
Australasian Railway Association (ARA) CEO Danny Broad said Trainline 4 provided proof that rail continues to be a vital component of Australia's transport system and the broader economy.
"Rail provides the backbone of our nation, moving freight and passengers 365 days a year in increasing quantities," he said.
"Rail freight now moves almost half of Australia's national freight task, a huge jump from approximately 36 per cent in 2000. Clearly this confirms rail role in moving goods around Australia and highlights the importance of continuing to invest in our freight networks," Mr Broad continued.
"Constructing the Inland Rail freight line from Melbourne to Brisbane is the highest priority for rail freight operators. It will provide a dedicated North – South rail freight route and allow rail to compete with road," he said.
Sydney's passenger rail network continues to provide the highest journey-to-work for city-centre commutes, where 46 per cent of workers travel by train.
"As our populations continue to grow, so too does the importance of mass transport and the role of rail in keeping our cities moving," said Mr Broad.
"If our cities come to a standstill, our productivity and GDP will be impacted. The rail investment being undertaken in our cities will transform rail's service offering but it is vital that this investment is sustained into the future to keep our growing cities moving," he concluded.
Trainline 4 was released by Hon Darren Chester MP, Minister for Infrastructure and Transport at the AusRAIL 2016 Conference and Exhibition, currently being held in Adelaide.
About The Australasian Railway Association (ARA)
The Australasian Railway Association (ARA) is the peak body representing all passenger, freight, track operators and the wider rail supply industry in Australia, New Zealand and Indonesia.
Our fundamental purpose is to create an environment that will permit the Australasian rail industry to prosper. When issues arise that affect the whole industry, the ARA takes the lead facilitating an industry response.
The ARA is actively involved in the development of rail policy to ensure the industry's views are represented.
As well as shaping policy in the areas of passenger, freight, rail safety regulatory reform, the environment, technology and research, the ARA is also involved in programs aimed at improving the productivity, capacity and overall safety of the Australasian rail industry.