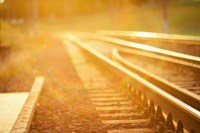 Construction companies have their first opportunity to be part of the iconic Inland Rail project with the Australian Rail Track Corporation (ARTC) now calling for Registrations of Interest (ROI) for construction of the Parkes to Narromine section.
A shortlist of companies will be selected from the ROI process and invited to proceed to a formal Expressions of Interest phase.
ARTC Programme Delivery Director for Inland Rail Simon Thomas said construction for Inland Rail is expected to commence in the Parkes to Narromine section in 2018.
"What we need to do is upgrade the already existing 107km rail corridor between Parkes and Narromine that is operated by ARTC as part of our interstate rail network."
The work will involve upgrading the track, track formation and culverts in preparation for doublestacked, 1.8km trains that will be travelling on Inland Rail.
"We also need to provide three new crossing loops at Goonumbla, Peak Hill, and Timjelly. The work also includes a new 5.3km long rail connection to the Broken Hill line to the west of Parkes," he said. Mr Thomas said as Inland Rail progressed there would be more opportunities for industry to benefit, including Australian and local companies.
"We will be following a rigorous process to appoint the right construction partners and suppliers for the each of the thirteen Inland Rail sections," he said.
Public Exhibition for the Environmental Impact Statement (EIS) for the Parkes to Narromine section closed on 18 August 2017, with 14 public submissions received.
"With the EIS for the Parkes to Narromine section currently being considered by the NSW Government, ARTC is getting construction ready."
"ARTC has been working very closely with communities and landholders along the Parkes to Narromine section and we will continue to as we move through construction," Mr Thomas said.
Registrations of Interest
Evaluation criteria will include company experience, suitability to the project and demonstrated ability to carry out the works.
Key features of the Parkes to Narromine project construction will include:
upgrade and reconstruction of sections of the existing track
construction, track and civil works for the new connection corridor
upgrading / relocating / consolidating existing level crossings
potential relocation / protection of utility services
ancillary works including flood immunity works, improving stormwater and drainage, and establishing / upgrading existing fencing of the rail corridor.
How to Submit
Companies that satisfy the evaluation criteria are requested to access the ROI documentation and submit a ROI via the TenderLink website: www.tenderlink.com/inlandrail/
About The Australian Rail Track Corporation Ltd. (ARTC)
The Australian Rail Track Corporation Ltd. (ARTC) was created after the Commonwealth and State Governments agreed in 1997 to the formation of a 'one stop shop' for all operators seeking access to the National interstate rail network.
ARTC plays a critical role in the transport supply chain and in the overall economic development of Australia. Its network is used to move a range of commodities including general freight, coal, iron ore, other bulk minerals and agricultural products. Its network is also important in providing access for interstate and inter-city passenger services.