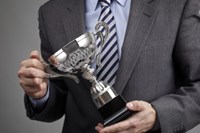 Australian Rail Track Corporation (ARTC) was announced the winner of the Workforce Diversity Award as part of the Australasian Rail Industry Awards.
After obtaining an exemption from the NSW Anti-Discrimination Board allowing them to target female recruits for specific roles within NSW, ARTC embarked on a campaign in the Hunter Valley aimed solely at women.
"The results well and truly exceeded our expectations with over 900 applications received." Said ARTC's Hunter Valley General Manager Asset Delivery, Scott Chapman.
Eleven candidates were successfully appointed who are now working within the field-based teams at Maitland, Port Waratah, Scone and Muswellbrook.
"We're thrilled to have won this award. We know that creating a more diverse workforce through increasing the number of women into our company will lead to different ways of thinking, greater innovation and creativity and improved morale."
The rail industry has traditionally had a heavy presence of male workers, especially out in the field.
"Our workforce is currently only 19 percent female and our aim is to increase this to 30 percent by 2020. This campaign was designed to get females to think about work roles that they may not have considered before."
The Anti-Discrimination Act two-year exemption remains in place for a period until July 2017.
About The Australian Rail Track Corporation Ltd. (ARTC)
The Australian Rail Track Corporation Ltd. (ARTC) was created after the Commonwealth and State Governments agreed in 1997 to the formation of a 'one stop shop' for all operators seeking access to the National interstate rail network.
ARTC plays a critical role in the transport supply chain and in the overall economic development of Australia. Its network is used to move a range of commodities including general freight, coal, iron ore, other bulk minerals and agricultural products. Its network is also important in providing access for interstate and inter-city passenger services.