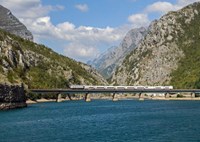 Europe's key industry players and NGOs push Member States to show more urgency and publish their plans for crucial e-mobility infrastructure.
The EU needs to accelerate its electro-mobility (e-mobility) revolution according to the organizations that will lead it in the coming decade. The diverse group – including some of the most well known companies and NGOs in Europe [1] - wants EU member states to show much more urgency in their plans to harness the diverse range of technologies needed to make clean electricity the dominant power source for transport, both between and within European cities.
A joined-up and accessible network of charging stations, including normal, fast and smart charging, is a sine qua non if Europeans are to benefit from the huge strides in e-mobility technologies. Under the Alternative Fuels Infrastructure Directive 2014, member states were required to submit their plans for supporting charging infrastructure by the end of 2016 – but around half of them still have not done so.
As Nicolas Erb, Chair of the Platform on Electro-mobility, noted:
"Europe has a huge opportunity to win on so many fronts with e-mobility. For a start, we'll recover the €1 billion or so a day Europe currently spends on high-polluting oil; we'll hugely increase access to mobility; we'll create high-quality jobs and we'll save countless lives by cutting air pollution. Just look at railways, from trams to high-speed trains, which are already largely electrified and much more energy-efficient than other modes.
"E-mobility may be a quiet revolution but it's a crucial one. Besides metros and tramways, there are now over two million electric vehicles on the world's roads – so we are at a tipping point – but we need to change-up a gear to really make it happen. And that's what the 25 organizations that form our Platform are calling for today."
Alongside the timely implementation of the Alternative Fuels Infrastructure Directive, the Platform's members are also pressing Member States for:
More charging stations: Meet fast growing consumer needs by committing to more publicly accessible charging stations – including along major roads as well as in urban areas – and by supporting the set-up of infrastructure for electric buses in public transport.
More flexibility: Encourage innovation by allowing for more flexibility on connector requirements for all car-charging stations and for electric buses – ensuring that European citizens and public authorities have full confidence in the viability of their vehicles.
Simpler permitting and financing: Promote best practice for e-mobility by simplifying permitting procedures and coordinating financial incentives across Europe.
Greater provision for vehicle charging from buildings: Most electric vehicles recharge during the day while a vehicle is parked (e.g. at home or at work). So policymakers should include greater provisions for electric vehicle charging in the Energy Performance of Buildings Directive. At the same time, permitting and approval procedures for existing buildings should be simplified to allow owners and tenants to deploy recharging points.
Increased resources for Connecting Europe Facility: Use the midterm revision of the European budget (Multi-Annual Financial Framework) to increase the resources for further electrification of all transport modes.
Genuine Multimodality at the heart of eMobility strategy: generate huge synergies across the whole economy by ensuring that electrified public and private transport modes (from metros to e-bikes) are fully integrated into a low carbon energy system.
Launched at the end of last year, the Platform on Electro-mobility is the first time such a diverse alliance of industry, operators, infrastructure managers, transport users, cities and civil society organizations has come together around a single vision – the electrification of transport – of achieving numerous, identified benefits: emissions reductions, efficiency gains, better consumer services, job creation and better health.
The next steps will be to integrate, for example, rail and road-based electric vehicles with smart grids based on innovative technologies, standards and advanced market rules.
[1] The Platform for Electro-Mobility is a European alliance of 25 producers, infrastructure managers, operators, transport users, cities and civil society organizations (members are listed in the notes).
About The Community of European Railway and Infrastructure Companies (CER)
The Community of European Railway and Infrastructure Companies (CER) brings together more than 70 members - European railway undertakings, their national associations as well as infrastructure companies. The membership is made up of long-established bodies, new entrants and both private and public enterprises. CER members represent about 61% of the rail network length, more than 84% of the rail freight business and about 99% of rail passenger operations in EU, EFTA and EU accession countries.