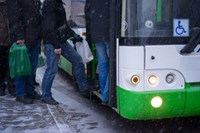 20 European organisations join forces to establish the first Mobility as a Service (MaaS) Alliance. This new initiative will work towards a truly European and common approach to MaaS through public and private stakeholder cooperation, providing the basis for the economy of scale needed for a successful implementation in Europe.
The key concept behind MaaS is to put the users, both travelers and goods, at the core of transport services, offering them tailor made mobility solutions based on their individual needs. This means that, for the first time, easy access to the most appropriate transport mode or service will be included in a bundle of flexible travel service options for end users.
The MaaS Alliance builds upon the momentum and drive achieved during the last European ITS Congress in 2014 hosted by Helsinki, where MaaS received political support from the Finnish government. "MaaS is a new approach to changing mobility markets. It relies on existing and developing transport services and has huge chance for global scaling", says the father of the concept Sampo Hietanen, CEO of ITS Finland.
According to Rasmus Lindholm, ERTICO's Director of Communications and Partnership Development: "MaaS has the potential to fundamentally change the behavior of people in and beyond cities, hence it is regarded as the biggest paradigm change in transport since affordable cars came into the market".
Founding Partners of the Mobility as a Service Alliance include Aalborg University, AustriaTech, Ericsson, ERTICO – ITS Europe, Federation International de l'Automobile (FIA) Region I, Finnish Ministry of Transport and Communications, Helsinki Business Hub, IRU, Connekt, ITS Finland, ITS Sweden, ITS Ukraine, MOBiNET, National Mobile Payment Plc. (Hungary), Swedish Ministry of Enterprise and Innovation, Finnish Funding Agency for Innovation (Tekes), Transport for London, Vinnova, University of Tampere and Xerox.
"Bundling services to simplify access to mobility is a key step to ensure the best use of all modes of transport. FIA Region I call upon the transport community to develop and combine these services based on the public's concrete needs. In the FIA, we believe mobility must be safe, sustainable, accessible and affordable for all", says Jacob Bangsgaard Director General FIA Region I.
Due to its open nature, the MaaS Alliance welcomes other Partners to join. This would contribute to the success of this new joint venture, as it will allow taking the needs of all stakeholders into account.
The official launch event will take place in the Finnish Pavilion (C37) at the ITS World Congress, in Bordeaux on Tuesday 6 October 2015 at 13.00. This inaugural ceremony will include the participation of:
Anne Berner, Minister of Transport and Communications, Finland;
Jacob Bangsgaard, Director General of FIA Region I and
Richard Harris, Director of Communication and Marketing at Xerox.
About ERTICO – ITS Europe
ERTICO – ITS Europe is a public/private partnership of 116 companies and organisations advocating and actively working on the deployment of Intelligent Transport Systems and Services (ITS) through 5 Programmes and a wide range of activities (events, projects, interest groups).
The ERTICO work programme focuses on initiatives to improve road safety, security and network efficiency whilst taking into account measures to reduce environmental impact. Currently the ERTICO partnership is working on 5 programmes:
Connected & Automated Driving
ITS for Urban Mobility
ITS Freight Transport & Logistics
eMobility
Emergency Call.
Each programme has identified activities according to short, mid and long term goals. In addition, an emphasis is given to 6 different enablers as the ERTICO Partnership acknowledges that the technology development does not lead to implementation alone. Also interoperability, policy, organisational, financing and the international aspect need to be taken into account.