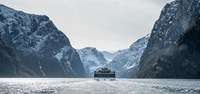 Norway-based operator The Fjords has taken delivery of its first all-electric ferry Future of The Fjords, which will be the first zero-emission passenger to sail in Western Norway.
Future of The Fjords is a 400-passenger catamaran that was built as a sister ship to Vision of The Fjords, a diesel-electric hybrid passenger vessel that was launched in 2016. Both 42-metre-long vessels were designed and built by Norwegian shipyard Brødrene Aa and feature carbon fibre hulls that mirror the zigzag mountain paths of the Norwegian mountains.
Unlike her sister, Future of The Fjords is propelled by two 450 kilowatt electric motors that can be recharged via a new Power Dock charging station that floats in Gudvangen harbour. Jointly developed by The Fjords and Brødrene Aa, the 40-metre-long Power Dock has a 2.4-megawatt hour battery pack that charges steadily via a connection to Gudvangen's local power grid throughout the day, so it can be used to recharge Future of the Fjords in 20 minutes. Future of The Fjords can also offload black water onto Power Dock for onshore treatment, making her the only passenger vessel that does not discharge sewage directly into the fjords. Power Dock also stores consumables and fuel for sister vessels.
"It is our mission to safeguard the vulnerable environment we give access to, while providing the absolute optimal experience for our passengers," said Rolf Sandvik, CEO of The Fjords. "With Future of The Fjords it's mission accomplished. Vision of The Fjords was an important development for us, but we had the ambition to take it one step further and replace the diesel electric propulsion with all-electric – thus eradicating all noise and emissions to air for the entire route. Future of The Fjords does just that, minimising its impact on the environment while maximising the experience of passengers who can now glide silently over the water and come closer to nature than ever before."
Future of The Fjords will begin operations in mid-May 2018 and will make around 700 yearly roundtrips along the UNESCO World Heritage-listed fjord route between Flåm and Gudvangen.
"We can't wait to welcome our first passengers onboard for the trip of a lifetime," said Sandvik. "We now hope Future of the Fjords can become a benchmark for environmentally responsible vessel operators worldwide, ushering in a new breed of clean, green and spectacular passenger transport."
About Cruise and Ferry

CruiseandFerry.net is the online home of International Cruise & Ferry Review, a twice-yearly magazine that is available for subscription in both printed and digital formats.
Via their website, magazine and social networks, they aim to be the world's best supplier of news and insight into the global passenger shipping industries. Their content covers both the cruise and ferry businesses, and provides their audience with insight into building and refurbishment, marine operations, onboard experience, ports and destinations and more.
International Cruise & Ferry Review magazine was first launched in the early 1990s and since then has become a trusted and reliable source for news on the passenger shipping industry. In 2011, the title was acquired by Tudor Rose, whose investments have built on the strong foundation, transforming the brand into the definitive resource for decision makers in the cruise and ferry industries. Now available in digital editions, supported by the new CruiseandFerry.net website, a Facebook page and Twitter feed, International Cruise & Ferry Reviewprovides comprehensive passenger shipping news and insight in formats to suit all readers.