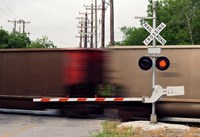 Tom Simpson, president of the Railway Supply Institute (RSI), today announced the election of three new members of the board of directors at the annual meeting held during this week's Railway Interchange 2015 in Minneapolis. The new board members are: Jason Connell – vice president, sales and marketing, New York Air Brake; Adam Lent – assistant vice president, supply chain, TTX Company; and William P. O'Donnell – executive director of global sales, Miner Enterprises.
"These new Board members were chosen from a group of highly-qualified candidates to serve a three-year term beginning January 1, 2016," said Simpson. "Jason, Adam, and Bill will do an outstanding job of serving RSI, its members and the railway industry."
Simpson also noted that at its summer meeting, the RSI board of directors elected Pat Ameen, vice president industry relations, Amsted Rail Company, Inc. to the post of RSI Secretary-Treasurer. Ameen joins Chairman Tom DeJoseph, vice president marketing and sales, Loram Maintenance of Way, Inc., and Vice Chairman Jim Frantz, president and chief executive officer, Graham-White Manufacturing Company to complete the 2016 RSI executive committee.
About The Railway Supply Institute (RSI)
The Railway Supply Institute (RSI) is the international trade association for the rail supply industry, representing the nation's leading companies involved in the manufacture of products and services in the freight car, tank car, locomotive, maintenance-of-way, communications and signaling, and passenger rail industries. America's railway suppliers represent a $23 billion/year industry supporting 90,000 American workers.