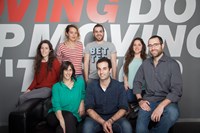 Yesterday Moovit announced it has added 5 million public transit stops worldwide to its app and increased the number of local editors who map out their own transport networks where public data is not readily available to 200,000. Moovit also announced it has added Japanese as the 44th language available on the popular transit app.
The milestones bring Moovit closer to its vision of mapping the world's entire public transit network, making travel smoother for commuters wherever they are, while simultaneously building the largest global repository of transport data that governments, urban planners and businesses can use to better prepare for a changing urban landscape.
According to the UN, over half (56.4%) of the world's 7.6 billion population currently live in an urban area and of the 31 'megacities' in the world (cities with 10 million inhabitants or more) 24 are located in less developed regions*. Without accurate public transit information, citizens in many developing areas are underserved by the transport data enjoyed by developed cities such as London, Paris or New York.
In the US, Moovit users enjoy a wide national coverage but it's developing urban areas where Moovit's growing crowdsourcing program of local editors, called Mooviters, are so valuable in contributing hyper-local transport information to be used by all. Examples of recent city additions thanks to the altruism of the community are detailed in editor's notes below. UN-Habitat states that the current model of urbanisation is unsustainable with cities all over the world grossly unprepared for the challenges associated with urbanisation.** The planning of public transport using real time data is imperative to assist urbanisation, which is why Moovit's mission to map out global public transport networks, making it the Wikipedia of transit, is so crucial.
The UITP estimates in the EU alone 57.6 billion journeys are taken on public transit carrying an average of 185 million passengers every workday and globally over a third of all journeys to work every day are via public transit.*** Mapping out accurate, real time usage of transport networks has become vital for managing urban growth.
With over 2,000 cities in the pipeline and a new city being added every 15 hours to the app, Moovit's crowdsourced approach to data collection is accelerating its goal of providing total global coverage wherever you are in the world. Moovit's addition of Japanese as its 44th language will enable the world's 128 million Japanese speakers to use the app, which is now available in more than 1,500 cities across 78 countries.
Nir Erez, Co-founder & CEO of Moovit said, "Our vision for Moovit from day one was to provide people all over the world with a simple and easy way to get around on public transit. As global population increases and pressures on cities grow, the Moovit team has been blown away by the level of engagement mapping out transit routes for fellow travelers."
"We're now taking Moovit's treasure trove of transit data to local governments and city planners to help them better prepare for the future of urban mobility including the imminent arrival of autonomous and electric vehicles" Erez said.
Sources
*The UN
**UN-Habitat
***The UITP
About Moovit
Moovit is the world's largest transit data and analytics company and the #1 transit app. Moovit simplifies your urban mobility all around the world, making getting around town via transit easier and more convenient. By combining information from public transit operators and authorities with live information from the user community, Moovit offers travelers a real-time picture, including the best route for the journey. Launched in 2012 and already with more than 90 million users, Moovit was named Best Local App of 2016 by Google.
Moovit amasses up to 500 million anonymous data points a day to add to the world's largest repository of transit data. The data gathering is aided by Moovit's network of more than 200,000 local editors called "Mooviters." These passionate users help map and maintain local transit information in cities that would otherwise be unserved. Mooviters account for 65 percent of the hundreds of cities Moovit opens every year and make Moovit the Wikipedia of Transit.
Moovit is an early pioneer of Mobility as a Service (MaaS). The company helps people change the way they consume mobility by fully integrating other forms of transport, such as local bicycle services, into its app. In 2017 Moovit launched its Smart Transit Suite of products to help cities, governments and transit operators improve urban mobility in their cities.
Moovit is available for free on iOS, Android and the Web in more than 1,500 cities, across 78 countries, and can be used in 44 languages. More than 100 cities and global events, includingRio de Janeiro for the 2016 Olympics, have made Moovit their official transit app.