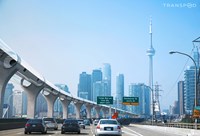 TransPod, the startup that is building the world's leading hyperloop system to disrupt and redefine commercial transportation, recently opened three offices to support global growth and accelerate the development of a commercially viable hyperloop system by 2020. Located in Canada, Italy, and France, TransPod's operations have expanded to facilitate advanced research and development with partners and experts, while leveraging the high-technology, engineering, railway, and aerospace talent pool in those regions.
"As TransPod enters the industrial phase of full system development, the expansion of our presence in these countries was a logical step in our growth strategy," said Sebastien Gendron, co-founder and CEO, TransPod. "We're thrilled to be growing our team and global partner network so quickly, as we work to introduce hyperloop transportation around the world. Our current position increases our ability to service diverse markets to connect people, cities, and businesses."
TransPod's operations are located in the following regions:
Toronto, Canada: TransPod's Canadian contingent is located in the MaRS Centre in the heart of Toronto. Known as one of the world's largest urban innovation hubs, MaRS' focus on driving cutting-edge technological innovation made it the right fit for TransPod's international headquarters.
Bari, Italy: Bari is home to many of the top commercial and industrial leaders in Italy, known for its influential and innovative business economic sector. TransPod's Italian operation will enable deeper collaboration with SITAEL, Blackshape, and MERMEC – leaders in the spacecraft, aviation, and railway industries – throughout the testing and development phases of TransPod technologies.
Toulouse, France: TransPod's French office is situated at the centre of the European aerospace industry. This location was chosen to enhance joint efforts with IKOS, a leading engineering firm, and REC Architecture, a design and infrastructure partner.
"The future of hyperloop will be its ability to virtually shrink distances and create a much more interconnected economy and true global community," said Gendron. "It will facilitate the exchange of ideas, commerce, and resources. Ultimately, we're talking about much more than just transportation here – we're talking about improving quality of life and economic prosperity – and TransPod is at the forefront of this new chapter."
In November 2016, TransPod announced the closing of a seed round for $15 million USD, and is continuing to invest in research, product development, and global growth.
About TransPod
TransPod's goal is to disrupt and redefine commercial transportation between major cities in developed and emerging markets. The startup was founded in 2015 to build the world's leading hyperloop system to connect people, cities, and businesses with high-speed transportation that is affordable and environmentally sustainable. TransPod is headquartered in Toronto, Canada.