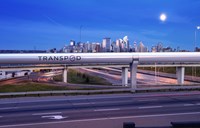 TransPod, the startup that is building the world's leading hyperloop system to disrupt and redefine commercial transportation, today released the results of its Initial Order of Magnitude Estimate (OME) study to build a TransPod ultra-high-speed line. The study indicates that building a TransPod hyperloop system will cost 30 per cent less than the projected cost of a high-speed rail (HSR) line along the same route, while offering faster and more efficient transportation for passengers and cargo, at more than three times the speed of high-speed rail (HSR).
"France has the fifth largest economy in the world, and the recent launch of two new high-speed rail lines is expected to stimulate further growth in Bordeaux and Rennes," said Sebastien Gendron, co-founder and CEO, TransPod. "But we can't stop there. There is an incredible need for further development of ultra-high-speed transportation, especially for the corridors of Paris and Toulouse, and Paris and Frankfurt. We must continue planning ahead to sustain future growth and global competitiveness."
With Paris and Frankfurt emerging as financial epicentres following Brexit, launching an industrial project between those two cities is a unique opportunity to strengthen the axis between France and Germany, with an emphasis on innovation. By developing hyperloop, France and ultimately Europe can take the lead to the same level as the country did 30 years ago with the TGV.
A recent study by the National Institute of Statistics and Economic Studies (INSEE) investigated the impact of France's fast transport infrastructure, such as high-speed rail, on a number of sectors including production, retail, trade, and manufacturing. The agency found that, for companies with multiple locations and production sites, the reduction in travel time reduced management costs by an average of 2.7 percentage points, increased production-related jobs by three points, and improved margins by an average of 24 to 32 per cent, depending on the sector.
"Clearly, faster and more efficient transportation provides a significant boost for businesses and the economy," said Gendron. "But we need to future-proof ourselves, and we can't continue with outdated technology. Many countries such as South Korea, Japan, and China have already moved past HSR and begun to see hyperloop as the future mode of transport – the age of HSR has come and gone, and the technology will soon be obsolete. We strongly urge the French government to consider hyperloop feasibility under a model of public-private partnership (P3) where the private sector will finance most of the cost."
Key findings from TransPod's OME are as follows:
| | | |
| --- | --- | --- |
| Parameters for the full Paris-to-Frankfurt corridor | TransPod hyperloop line | High-speed rail |
| Total cost | 8.3 billion euro | 11.5 billion euro |
| Total end-to-end travel time | 35 minutes | 2 hours |
| Cost per kilometre (total: 480 km) | 17.3 million euro | 24 million euro |
| Maximum speed | Beyond 1,000 km/h | 320 km/h |
| Average speed | 700 km/h | 230 km/h |
Key benefits of a TransPod hyperloop line are as follows:
It's affordable to build: The cost to build a TransPod hyperloop line is one-third less than that of highspeed rail.
It's much faster than HSR: The average speed of the TransPod vehicles will be 1,000 km/h, or more than five times faster than high-speed rail. HSR is only projected to travel at an average speed of 150 km/h.
It's environmentally sustainable: TransPod's technology is powered by renewable energies including self-sustainable solar power with zero fossil-fuel consumption, for reduced carbon emissions.
It will alleviate challenges with housing affordability: TransPod's convenient, ultra-high-speed trips will allow commuters more flexibility on where they can live in relation to where they work, by drastically cutting down commute times and helping to realize true urban mobility.
A hyperloop system will realize regional benefits: This includes relieving traffic congestion on major roads, attracting and retaining talent who are not held back by commute times, and supporting economic growth in the region.
"Smart infrastructure can help to alleviate environmental, economic, and even housing concerns, in order to sustain future growth," said Gendron. "We cannot continue to be laggards, especially in a country whose economic growth and quality of life may potentially have rippling effects across the continent. TransPod would appreciate and welcome the opportunity to work with the French government to assess hyperloop feasibility."
"TransPod's breakthrough research and innovative technology will enable convenient, safe, ultra-high-speed journeys to be as simple as waiting five minutes for the next station departure," said Ryan Janzen, co-founder and CTO, TransPod. "The TransPod vehicle uses cutting-edge aerospace technology, while the interior will be reminiscent of an advanced aircraft cabin with rows of seating. The riding experience is smooth, comfortable, and fast. This technology is being developed in Canada with TransPod's global industrial partners, to redefine future transportation."
In November 2016, TransPod announced the closing of a seed round for $15 million USD from Angelo Investments, and is continuing to invest in research, product development and global growth thanks to synergies with Blackshape, MERMEC and SITAEL, three companies from the Angelo Group. In March 2017, TransPod announced the opening of three offices in North America and Europe to accelerate the development of a commercially viable hyperloop system by 2020. In June 2017, TransPod announced a partnership with LiebherrAerospace to develop next-generation thermal management technology for the TransPod hyperloop system.
About TransPod
TransPod's goal is to disrupt and redefine commercial transportation between major cities in developed and emerging markets. The startup was founded in 2015 to build the world's leading hyperloop system to connect people, cities, and businesses with high-speed transportation that is affordable and environmentally sustainable. TransPod is headquartered in Toronto, Canada.