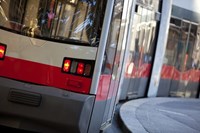 Investing in public infrastructure supports efficient, affordable and sustainable transit services that help Canadians and their families get to work, school and essential services on time and back home safely at the end of a long day.
Today, the Honourable Amarjeet Sohi, Minister of Infrastructure and Communities, the Honourable Kent Hehr, Minster of Veterans Affairs and Associate Minister of National Defence, the Honourable Brian Mason, Alberta Minister of Infrastructure and Minister of Transportation, and the Honourable Joe Ceci, Alberta Minister of Finance and President of the Treasury Board, announced $270.3 million for 52 new projects across Alberta through the Public Transit Infrastructure Fund (PTIF). The federal government is providing up to 50 per cent of funding – just over $132.9 million – while the province is investing more than $79.4 million through Alberta's Green Transit Incentives Program (GreenTRIP). Municipalities are contributing the balance of $58 million.
In addition, Alberta announced a further $156.5 million in GreenTRIP funding for 37 projects and is providing up to two-thirds of the cost for those projects. Municipalities will provide the balance of $79.2 million, for a total of $235.7 million.
The list of new public transit projects includes significant investments in Calgary for critical work to support the city's Green Line LRT corridor. It also includes other important projects, such as the design and construction of bus bay turnouts and shelters in Fort McMurray, which will provide a safe location for passengers to get on and off buses away from traffic. Buses in Strathcona County will also be replaced, achieving 100 per cent accessibility for this municipality's transit fleet ahead of schedule, while also reducing greenhouse gas emissions.
These projects are in addition to the 49 public transit projects announced for Alberta on September 1, 2016 as part of the signing of the Canada-Alberta bilateral agreement.
Quotes
"The Government of Canada recognizes how important affordable and efficient transit infrastructure is to growing the middle class and getting Canadians to work on time and back home quickly at the end of a long day. We are very pleased to announce new public transit projects, which will help make municipalities across Alberta stronger, more inclusive and sustainable, while ensuring that Canadian communities remain among the best places in the world to live, work and raise a family." The Honourable Amarjeet Sohi, Minister of Infrastructure and Communities.
"Getting people where they need to go safely, quickly and comfortably is fundamental to economic growth and building an inclusive society. I'm very pleased to see how these new projects will result in widespread benefits for Calgary transit users." The Honourable Kent Hehr, Minister of Veterans Affairs and Associate Minister of National Defence.
"Our government is committed to ensuring Alberta municipalities have access to affordable, accessible and environmentally sustainable public transportation options. By collaborating with all orders of government, we are ensuring Albertans are getting the most out of our transit infrastructure investments. Public transit allows people to get where they want to go safely and efficiently, while reducing congestion and the number of vehicles on our roads which will help protect our environment now and in the future." The Honourable Brian Mason, Minister of Infrastructure and Minister of Transportation.
"Through the Alberta Jobs Plan, our government has made significant investments in infrastructure throughout our province. Not only does this investment create jobs and act as a shock absorber during the economic slowdown, it prepares Alberta for a future of prosperity and growth. Today's announcement represents this commitment – with more than $258.9 million in combined federal and provincial funding going towards the City of Calgary's transit projects, all of which the City will direct to the Green Line. This means in the coming years, Calgarians will have new ways to get to work, take their kids to school and explore the city through public transit." The Honourable Joe Ceci, President of Treasury Board and Alberta Minister of Finance.
"Investments in public transit are some of the most important investments a government can make. I'm very pleased to see all three orders of government working together to keep Calgarians moving efficiently. This early work on the Green Line LRT corridor helps us get even closer to building this important piece of public transit." His Worship Naheed Nenshi, Mayor of Calgary.
About Transport Canada
Transport Canada is responsible for transportation policies and programs. It promotes safe, secure, efficient and environmentally-responsible transportation.