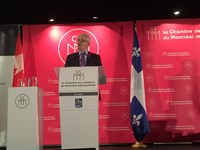 The Honourable Marc Garneau, Minister of Transport, is delivering on his commitment to create a safe, secure, green, innovative and integrated transportation system that supports trade and economic growth, a cleaner environment and the well-being of Canadians and their families.
Minister Garneau was at the Chamber of Commerce of Metropolitan Montréal today to present his strategy, Transportation 2030, to over 550 key transportation stakeholders from across the country. The plan is based on the five themes around which the Minister consulted with Canadians, stakeholders, provinces and territories, academics and Indigenous groups over the past six months. Moving forward, the Government of Canada will:
The Traveller
Support greater choice, better service, lower costs, and new rights for travellers by:
Pursuing legislation to provide greater transparency, clarity and fairness for Canada's air traveller, including clear standards for treating and compensating passengers under specific circumstances.
Pursuing legislation to change international ownership restrictions from 25 to 49 per cent of voting interests for Canadian air carriers and conditionally approving requested exemptions for two companies, Canada Jetlines and Enerjet, from the current international ownership restrictions.
Working with Canadian Air Transport Security Authority (CATSA) to ensure that travellers at Canadian airports go through security faster, while maintaining the same high security standards.
Safer transportation
Build a safer, more secure transportation system that Canadians trust by:
Moving up its review of the Railway Safety Act from 2018 to 2017 in order to further improve railway safety.
Introducing requirements for locomotive voice and video recorders to be used during accident investigations.
Green and Innovative Transportation
Reduce air pollution and embrace new technologies to improve Canadians' lives by:
Continuing working with provincial governments on a Pan-Canadian Framework that includes a strategy for transportation in Canada in order to reduce carbon pollution by 30% from 2005 levels by 2030.
Working to ensure that drones (unmanned air vehicles) are subject to simple, clear and enforceable regulations.
Investing in areas such as smart grids, electricity transmission, renewable power and smart cities plans that will lead to cleaner transportation technology.
Supporting the development of regulatory framework for emerging technologies, such as connected and automated vehicles, in order to support a broader strategy on innovation.
We have also already invested $62 million in electric car charging and low-emission fueling stations.
Waterways, Coasts and the North
Build world-leading marine corridors that are competitive, safe and environmentally sustainable, and enhance northern transportation infrastructure by:
Protecting Canada's coasts and waterways for generations to come by introducing a national plan to increase marine safety and emergency response, and build closer partnerships with Indigenous groups and coastal communities.
Continuing to work with Indigenous groups and Northern communities to create marine transportation corridors that improve community resupply and open up new economic opportunities for Northerners.
Developing a strategy to address abandoned boats and wrecked vessels, in partnership with other jurisdictions across the country.
Trade Corridors to Global Markets
Improve the performance and reliability of our transportation system to get products to markets to grow Canada's economy by:
Investing $10.1 billion for transportation infrastructure to help eliminate bottlenecks and building more robust trade corridors.
Pursuing legislation that will allow reciprocal penalties in service level agreements between railway companies and their customers.
Over the coming months, several other specific initiatives will be announced to implement these key objectives.
Quote
"This plan addresses the needs for the future of transportation in Canada. It will move our transportation system forward and support the economic growth of our great country for the benefit of all Canadians, and particularly the middle-class and those looking to join it." The Honourable Marc Garneau, Minister of Transport
About Transport Canada
Transport Canada is responsible for transportation policies and programs. It promotes safe, secure, efficient and environmentally-responsible transportation.
Transport Canada reports to Parliament and Canadians through the minister of Transport. It works with its portfolio partners, other government departments and jurisdictions, and industry to ensure that all parts of Canada's transportation system work well.