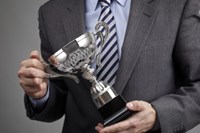 An operations, maintenance and storage facility designed and built by York Region Rapid Transit Corporation (YRRTC) has received LEED Silver certification from the Canada Green Building Council.
LEED (Leadership in Energy and Environmental Design) certification provides independent, third-party verification that a building, home or community was designed and built using strategies aimed at achieving high performance in key areas of human and environmental health: sustainable site development, water savings, energy efficiency, materials selection and indoor environmental quality.
The facility has been built to store and maintain York Region Transit/Viva bus rapid transit vehicles, and is located near Leslie Street and 16th Avenue in Richmond Hill's Headford Business Park.
This 481,679 square foot facility holds up to 196 Viva buses and opened in July 2015. Among other environmental features, the facility includes a reflective white roof to save on cooling costs and storage for 500,000 litres of rainwater recycled for use in the bus wash.
The total project cost was approximately $135 million. The Government of Canada contributed approximately $57 million through the Canada Strategic Infrastructure Fund, the Regional Municipality of York provided $60 million and the Province of Ontario provided $18 million.
Quotes
"The Government of Canada recognizes that investing in transit infrastructure is essential to growing the middle class and protecting the environment. We are proud to support projects that will help make communities more sustainable and provide a better quality of life for all Canadians."
Majid Jowhari, Member of Parliament for Richmond Hill, on behalf of the Honourable Amarjeet Sohi, Minister of Infrastructure and Communities
"The Ontario government is committed to investing in public transit, our environment and sustainable development. This facility is a good example of how all three components work together to build a better Ontario."
The Honourable Steven Del Duca, Ontario Minister of Transportation
"This is an excellent example of the quality projects that can result from all levels of government working together. Those who live and work in York Region will benefit from the reduced environmental footprint of this facility design, as well as the support the facility brings to our transit system."
Wayne Emmerson, York Region Chairman and CEO
"Richmond Hill is committed to creating an environmentally sustainable place for people to live and work. This facility is a welcomed addition to the Headford Business Park and will benefit the community."
Dave Barrow, Mayor of Richmond Hill
About Transport Canada
Transport Canada is responsible for transportation policies and programs. It promotes safe, secure, efficient and environmentally-responsible transportation.