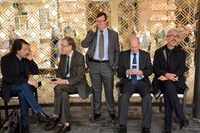 Commuters and visitors to Manchester can now charge their phones and access free Wi-Fi and live travel information at a cutting-edge pilot bus shelter in the city centre.
Transport for Greater Manchester (TfGM), along with JCDecaux and RATP, have developed a 'super' shelter showcasing the latest in technology and urban design.
The state-of-the-art bus shelter on Piccadilly, in close proximity to Manchester Piccadilly rail station, features free charging points for phones and other mobile devices, free Wi-Fi, plus news, travel and city information via digital touchscreens, keeping passengers connected while they wait.
The shelter – a first for the UK – creates a more attractive public space by using different materials and lighting and offers more comfort as well as the latest technology to enhance bus passengers' overall journey.
The innovative facility was created by pioneering AUREL Design Urbain supported by celebrated art director Peter Saville, who is renowned for his work as co-founder of Manchester's legendary Factory Records.
As consultant creative director to Manchester, Peter's input ensured the shelter perfectly complements the city centre setting and epitomises Tony Wilson's quotation "This is Manchester, we do things differently here."
Waiting customers are benefiting from the aesthetically pleasing and comfortable environment, are better protected from the elements under a wider roof and can look up to see an attractive dark wood ceiling. Passengers sitting upstairs on passing buses now look down on a planted roof which absorbs pollution and contributes to a greener city.
The shelter's modular design means it can be adapted to fit other sites in Greater Manchester and offer different services if required.
In addition, the digital advertising opportunities offer the potential to generate income for Transport for Greater Manchester which would be reinvested into public transport.
Councillor Andrew Fender, Chair of the Transport for Greater Manchester Committee, said: "This is a really exciting and unique scheme for Manchester as this pilot shelter is the first of its kind in the UK.
"One of our key aims is to provide an improved public transport network that encourages more people to choose sustainable and more environmentally friendly ways to travel – especially in the city centre.
"Research indicates that improved public transport environments – with technology built in – encourage more people to use them and that's what we're testing out here.
"We'll be asking people who use this bus stop for their views over the coming weeks and more new services and facilities could be trialled here."
Helena Kavanagh Managing Director – Street Furniture at JCDecaux UK, said: "As transforming cities has always been within JCDecaux's ethos, it's been a privilege to work with Transport for Greater Manchester on this project.
"Bus shelters can do so much more than simply protect waiting passengers from the elements, and with the technological means now at our disposal they can become an integral part of tomorrow's connected cities, harnessing technology to make shared environments safer, smarter and more environmentally friendly."
The shelter is a £300,000 pilot scheme which has been entirely funded by the Department for Transport from a ring-fenced capital grant with the aim of reducing carbon emissions, congestion and pollution and increase active travel.
About Transport for Greater Manchester
Transport for Greater Manchester is the new name for the organisation responsible for implementing local transport policy.
Transport policies that affect the ten districts of Greater Manchester are set by the new Greater Manchester Combined Authority and its Transport for Greater Manchester Committee.
Transport for Greater Manchester is the delivery arm for the elected body, responsible for investing your money in improving transport services and facilities, supporting the largest regional economy outside London.