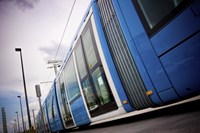 Greater Manchester's Metrolink tram system – the largest of its kind in the UK – has welcomed a new operator on board to run the iconic network.
KeolisAmey Metrolink (KAM), a joint venture partnership of leading global public transport operator, Keolis, and infrastructure asset management specialist, Amey, has taken over the reins from former operator, Metrolink RATP Dev Ltd (MRDL).
The change in operator sees the appointment of Aline Frantzen as Managing Director for KAM. Aline joins the business following 17 successful years with Yarra Trams, the world's largest light rail network in Melbourne, Australia, which is also operated by Keolis.
The new contract, to operate as well as maintain the system, will run for up to 10 years.
Councillor Andrew Fender, Chair of the Transport for Greater Manchester Committee (TfGMC), said: "Firstly, I'd like to place on record my thanks to MRDL for all their work and pay tribute to the staff who have played a crucial part in making the network what it is today – a fantastic, world-class light rail system.
"KeolisAmey Metrolink is a partnership between two international transport and infrastructure management specialists, with the experience and skills to operate Metrolink, create jobs, support the growth of the local economy and deliver innovative and pragmatic solutions that offer better passenger experiences.
"These are exciting times for Metrolink and the city-region and I warmly welcome KAM as the Metrolink operator. Together we will further realise the full potential and benefits of the unprecedented growth and investment we are overseeing in the network."
Aline Frantzen, KAM Managing Director, said: "We are looking forward to working with TfGM, our partners and the community to implement our exciting plans for what is already a high-performing network. Our approach will be focused on collaboratively working to keep Greater Manchester moving and growing."
Key features of the new contract include a major focus on improving operational reliability, and customer service and security – with an increased staff presence on the network, particularly in the evening and at weekends.
KAM is committed to sourcing a minimum of 40 per cent of supplier contracts within 25 miles of Greater Manchester and creating more than 300 jobs including drivers, apprenticeships and traineeships over the course of the contract.
Over 60 of those new jobs have already started, following the successful recruitment of additional Customer Service Representatives and Travel Safe Officers, as well as more drivers.
These changes come at an exciting time for Metrolink: 2017 has already seen the completion of the Second City Crossing (2CC), a crucial piece in a £2bn transformational expansion programme that has trebled the size of the original network. Work has also started on a new extension through Trafford Park – Europe's largest industrial park – and on to the intu Trafford Centre.
It is also Metrolink's silver jubilee year, with the first trams having taken to the tracks on 6 April 1992, when services ran between Bury and Manchester Victoria. Services to Altrincham followed soon after, before Her Majesty The Queen officially opened the network during a special ceremony on 17 July that year.
Fast-forward 25 years and the network has grown beyond all recognition, now serving 93 stops across seven different lines along almost 100km of track, with a fleet of 120 modern trams catering for more than 38 million journeys a year – and rising.
About Transport for Greater Manchester
Transport for Greater Manchester is the new name for the organisation responsible for implementing local transport policy.
Transport policies that affect the ten districts of Greater Manchester are set by the new Greater Manchester Combined Authority and its Transport for Greater Manchester Committee.
Transport for Greater Manchester is the delivery arm for the elected body, responsible for investing your money in improving transport services and facilities, supporting the largest regional economy outside London.