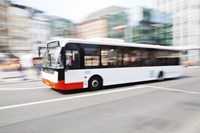 The North West's first guided busway has scooped its second award in a week, with the latest accolade recognising its contribution to the environment and sustainability.
The 4.5-mile bus-only guideway between Leigh, Tyldesley and Ellenbrook opened in April and has already welcomed more than 400,000 passengers on board.
Masterminded by Transport for Greater Manchester (TfGM), built by Balfour Beatty and operated by First Manchester, it forms the flagship element of TfGM's bus priority investment – a £122 million overall package to improve bus journey times and services.
Hot on the heels of winning the Transport Policy, Planning and Implementation award at the CILT North West Awards, the project's environmental credentials were recognised with an award for sustainability at the 10th annual North West Construction Awards.
The award recognises organisations that have shown creative thinking to ensure that principles of sustainability are fully integrated in a project.
Sustainability was a central consideration during the design and construction of the busway, and has lived on since it opened, with high-specification, low-emission hybrid buses used on all of its dedicated Vantage services.
The busway investment provides more travel choices for residents in Greater Manchester, which is also valuable in reducing emissions as well as tackling congestion for the benefit of the environment.
It includes three park and ride sites, offering free parking for more than 400 cars. In addition, a shared path alongside its whole length has been surfaced so it can be used by horse riders, walkers and both leisure and commuter cyclists.
During construction, 72,000 tonnes of material from the busway was transferred to a nearby Forestry Commission site to improve soil content.
New trees were planted maintaining the area's rural appeal and creating green spaces and, as the busway runs between the ponds and fields, the team installed two tunnels under the busway to allow newts to safely pass underneath.
Councillor Andrew Fender, Chair of the TfGM Committee, said: "I'm delighted that this important project has been recognised at the North West Construction Awards, just a few days after being recognised at the CILT North West Awards.
"Creating the North West's first guided busway was a major feat of engineering, and its services are providing a significant boost for the communities it serves, helping people to access work, education and healthcare more easily than ever before.
"That it has been delivered, and is operating, in a sustainable way is hugely beneficial to the environment and for improving air quality, both of which are absolutely vital for the long-term health of our region."
Paul Weaver, Managing Director of contractor Balfour Beatty's North West and the Midlands delivery unit, commented: "The Guided Busway is a fantastic project, and it's great to see that its success is being widely recognised. This project leaves a sustainable legacy as an efficient, environmentally friendly public transport link. Over 30,000 customer journeys a week are now experiencing the smooth and reliable service on offer."
About Transport for Greater Manchester
Transport for Greater Manchester is the new name for the organisation responsible for implementing local transport policy.
Transport policies that affect the ten districts of Greater Manchester are set by the new Greater Manchester Combined Authority and its Transport for Greater Manchester Committee.
Transport for Greater Manchester is the delivery arm for the elected body, responsible for investing your money in improving transport services and facilities, supporting the largest regional economy outside London.