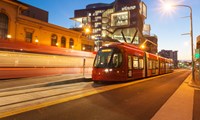 Millions of commuters are taking advantage of contactless payments when taking trains, trams, buses and ferries across the Opal network, Transport for New South Wales (Transport for NSW), Australia has announced.
Acting Minister for Transport and Roads, Paul Toole, said a major milestone had been reached with more than 30 million journeys taken using debit or credit cards, or linked devices, since the first trial on the Manly Ferry in 2017.
"The NSW Government is powering ahead with more innovative payment options for those using our Opal network as people continue to move away from cash, and even more recently cards," Toole said.
"We know digital wallets are becoming more common, so being able to pay a fare with a mobile phone or smart watch is just another added convenience for commuters."
"Rolling out contactless payments is an Australian-first innovation and is one of the biggest advancements in ticketing technology in generations, with around 1.5 million journeys paid for without an Opal card in an average week."
Toole said while new payment options were growing in popularity among commuters, there was still demand for pre-loaded Opal cards.
"It's easier than ever to pay for public transport and through our innovative payment platforms we're aiming to create more digital products including the digital Opal card which we plan to roll out in a trial phase in 2020," he added.
"This follows the activation of contactless payments on all public transport modes on the Opal network, and introducing the same fare and travel benefits of an Adult Opal card last year. Transport for NSW continues to offer Opal cards."
About Transport for NSW

Serving the transport industry for more than 15 years, Intelligent Transport is the leading source for information in the urban public transport sector. Covering all the new technologies and developments within this vitally important sector, Intelligent Transport provides high-quality analysis across our core topics: Smart Cities, Digitalisation, Intermodality, Ticketing and Payments, Safety and Security, The Passenger, The Fleet, Business Models and Regulation and Legislation.