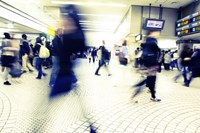 Three groups have been shortlisted to help revitalise Central Station, including delivering the underground Central Walk concourse and Sydney Metro platforms at the city's biggest railway station.
Minister for Transport and Infrastructure Andrew Constance has announced the shortlist that will be invited to tender for the Central Station Main Works contract are:
Laing O'Rourke Australia Construction Pty Ltd
CPB Contractors Pty Ltd and John Holland Pty Ltd joint venture
Lendlease Engineering Pty Ltd/Lendlease Building Pty Ltd.
The contract includes construction of Central Walk and the new Sydney Metro platforms under Central and is expected to be awarded in the first quarter of next year as part of the Sydney Metro City & Southwest project, which is Stage 2 of Sydney Metro.
"Central is the backbone of our public transport network with more than 250,000 people passing through the station every day," Mr Constance said.
"But that number's expected to grow to 450,000 in the next two decades, and we need to ensure better transport connections are in place to help people get around."
Central Walk will better connect customers to trains, buses, light rail and the new Sydney Metro.
Main features of Central Walk include:
A 19-metre wide tunnel from Chalmers Street, linking to new metro platforms under Central
New, easy access points to Sydney Trains platforms 16 to 23
Escalators directly to suburban platforms for the first time.
"This is the first step towards revitalising Central Station. We want to unleash its potential as a world class gateway, on par with some of the grand stations of the world, and Sydney Metro is the key enabler in making that happen," Mr Constance said.
"By combining the works of the metro platforms and Central Walk we can deliver both projects at the same time and minimise the disruption to customers."
About Transport for NSW
Transport for NSW is the lead agency of the NSW Transport cluster. Our role is to lead the development of a safe, efficient, integrated transport system that keeps people and goods moving, connects communities and shapes the future of our cities, centres and regions.