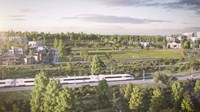 The NSW Government will start work on a fast rail network in the next term of government, linking regional centres to each other and Sydney, significantly slashing travel times across the State.
Four potential routes have already been identified and High Speed Rail expert Professor Andrew McNaughton has now been appointed to confirm the most appropriate routes, train speeds and station locations.
Premier Gladys Berejiklian said a fast rail network will give people greater choice about where they live and how they commute to work.
"We know a fast rail network will transform NSW unlike any other project and we will make it a reality," Ms Berejiklian said.
"We need to make it easier for people to consider moving to regional NSW and there is no better way to do that than building a fast rail network."
The four routes identified by the Government are within 300 kilometres from Sydney:
Northern Route including the Central Coast and Newcastle.
Southern Inland Route including Goulburn and Canberra.
Western Route including Lithgow, Bathurst and Orange / Parkes.
Southern Coastal Route including Wollongong and Nowra.
"The expert will provide advice to Government on what is possible and what would be involved," Ms Berejiklian said.
About Transport for NSW

Transport for NSW lead the development of safe, integrated and efficient transport systems for the people of NSW. Our customers are at the centre of everything that we do, including transport planning, strategy, policy, procurement and other non-service delivery functions across all modes of transport - roads, rail, ferries, light rail and point to point.