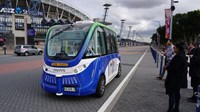 The first passengers have ridden on the NSW Driverless Shuttle at Sydney Olympic Park this week, ahead of services starting in the coming weeks.
A select group of competition winners from the 2018 Easter Show boarded the vehicle on Olympic Boulevard, opening stage two of the state's first driverless shuttle trial.
Minister for Transport and Infrastructure Minister Andrew welcomed the milestone.
"I'm very excited to see passengers on these vehicles. We know self-driving cars will play a major role in the future and that's the future we're preparing for right now," Mr Constance said.
In August 2017 the NSW Government, through the Smart Innovation Centre, joined forces with HMI Technologies, NRMA, Telstra, IAG, Sydney Olympic Park Authority, and now the University of Technology Sydney, to conduct a two-year trial of the state's first highly automated Shuttle.
"The ultimate goal of this landmark trial is to find the best way to harness the next generation of driverless technology and how to make it work for the people of NSW," Mr Constance said.
"We want to bring customers along on the journey, giving them the opportunity to experience this technology and respond to the vehicle so we can implement the feedback as we work towards a connected and automated future."
Minister for Roads, Maritime and Freight Melinda Pavey said it's a landmark moment for the state.
"We're on the cusp of optimising our road infrastructure with emerging technologies including driverless vehicles making our roads safer, more efficient and enhancing mobility for customers," Ms Pavey said.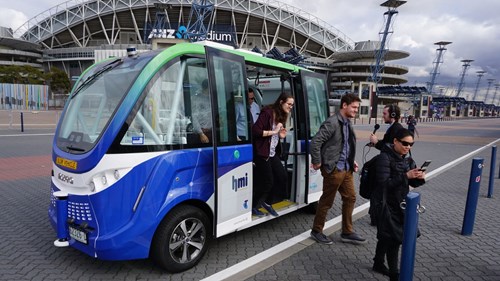 "Since launching the trial we've been working to ensure the Shuttle delivers a safe and comfortable journey, first testing the shuttle's braking, sensors and communications in the off road environment at Newington Armoury, then after safe and successful operation we progressed testing to public roads around Sydney Olympic Park."
The Navya shuttle is considered a level four, highly autonomous vehicle designed to carry up to 12 passengers. It can travel up to 40km/h in autonomous mode with features including front and rear cameras, LIDAR, GPS technology and autonomous emergency brakes.
The shuttle will continue to operate on Olympic Boulevard, with members of the public able to book limited free rides over the coming weeks. Transport for NSW will release these dates on the Smart Innovation Centre and trial partner websites with bookings to be available two days a week, before the trial progresses to stage three in early 2019.
Stage three of the Shuttle trial will focus on servicing parts of the Sydney Olympic Park precinct by testing a variety of uses including transporting office workers, residents and other precinct workers.
"We want to use the trial to help develop the systems that will enable automated vehicles to be connected to our infrastructure, like traffic lights and to our customers through their devices and applications," Mr Constance said.
This trial is part of a growing portfolio of connected and automated vehicle trials in NSW that are exploring how the technology will improve both the safety and mobility of customers in metropolitan and regional NSW.
The NSW Government also recently announced two regional automated vehicles trials in Coffs Harbour and Armidale as well as a trial of partially automated vehicle technology on the Sydney Orbital network.
"There is still some way to go before self-driving vehicles become common place on Australian roads, but as a Government we are ready to take the next step," Ms Pavey said.
About Transport for NSW

Transport for NSW leads the development of safe, integrated and efficient transport systems for the people of NSW. Our customers are at the centre of everything that we do, including transport planning, strategy, policy, procurement and other non-service delivery functions across all modes of transport - roads, rail, ferries, light rail and point to point.