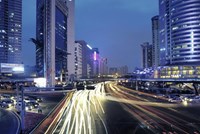 Transport for NSW has launched a new interactive approach to transport planning that will focus on new technologies to capture what public transport customers, motorists and the community want included in a new 40-year transport roadmap.
The new Future Transport Strategy will guide our state's approach to public transport and roads infrastructure through flexible planning that is adaptable to rapid social, economic and technological changes.
It will also support the recently launched district plans from the Greater Sydney Commission that envisage Greater Sydney as a more productive, liveable and sustainable city, as well as being coordinated with Infrastructure NSW's State Infrastructure strategy and the Sydney Regional Plan being developed during 2017.
The Future Transport Strategy will place a greater focus on supporting new and emerging technologies to create better outcomes for transport customers, as well as supporting passenger and freight services.
The first stage of the Future Transport Strategy website is now live, providing insights into the transport planning process and a snapshot of what has been achieved since the 2012 Long Term Transport Master Plan.
"We're full steam ahead on a $41.5 billion transport infrastructure program that's transforming the state" said Clare Gardiner-Barnes, Deputy Secretary Freight, Strategy & Planning.
"With the Sydney Metro network in the Northwest, City, West and South West, the Northern Beaches B-Line, as well as light rail projects in the Sydney CBD and South East, Newcastle and Parramatta.
"This investment also includes improvements to country roads and country rail. Our 2012 Master Plan has guided this unprecedented investment."
Ms Gardiner-Barnes explained that the new strategy aims to take a fresh approach to planning and build on the NSW Government's commitment to be more technology focused and to lead customer based reforms such as those in point to point transport.
The launch of the website marks the first stage in a range of initiatives to shape the future of transport in NSW. Early next year consultation on the state's transport future will begin, using a digital experience to find out what services customers want over the next 40 years.
"The approach will be designed to get more people involved in transport planning and generate more meaningful input that we can really use to shape the future of transport in NSW."
"Future Transport Strategy is about bringing our customers, industry and the community along the planning journey with us, using digital technology to take consultation to a new level in 2017."
More information about how you can help shape the future of transport planning in NSW through the Future Transport Strategy will be available early next year.
About Transport for NSW
Transport for NSW is the lead agency of the NSW Transport cluster. Our role is to lead the development of a safe, efficient, integrated transport system that keeps people and goods moving, connects communities and shapes the future of our cities, centres and regions.