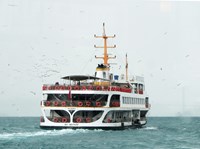 Transport for NSW has issued a competitive tender to operate Sydney's ferry services, inviting new ideas to enhance one of the most popular modes of transport in the Harbour City.
"Whether you're a local on your daily commute or a tourist checking out the sights, travelling on a ferry is a great way to get around Sydney, with 15 million passenger journeys on the network last year," said a Transport for NSW spokesperson.
"Harbour City Ferries has proven that a franchise model can deliver for customers, having improved service performance and raised customer satisfaction to its highest level ever."
"However, we won't rest on our laurels and we are now looking at ways to improve services and manage our fleet, while ensuring the state continues to receive value for money."
The tender follows a period of industry engagement and market sounding.
"Our industry engagement provided an opportunity to discuss with operators different ways services could be delivered, including On Demand services, which would be a first for the ferry network," the spokesperson said.
"Significant investments have already been made in growing the ferry network, with more than 400 weekly services added since 2011. We've also invested in six new Inner Harbour Ferries and delivered upgrades at 16 wharves to improve accessibility for customers."
As the current operator, Harbour City Ferries will be invited to take part in the tender process.
The successful operator is expected to be announced during the first quarter of 2019.
About Transport for NSW


Transport for NSW lead the development of safe, integrated and efficient transport systems for the people of NSW. Our customers are at the centre of everything that we do, including transport planning, strategy, policy, procurement and other non-service delivery functions across all modes of transport - roads, rail, ferries, light rail and point to point. We work hand-in-hand with our operating agencies, private operators and industry partners to deliver customer-focused services and projects - we're making NSW a better place to live, work and visit.