Tunnelling started today to deliver twin new metro railway tunnels below the centre of Sydney and deep under Sydney Harbour as part of Australia's biggest public transport project, Sydney Metro.
Premier Gladys Berejiklian and Minister for Transport and Infrastructure Andrew Constance officially launched tunnel boring machine (TBM) Nancy – one of the five mega borers which will build 31 kilometres of tunnels between Marrickville and Chatswood.
"Sydney Metro is at the centre of the NSW Government's transformation of public transport which will give people more choice in how they get around Sydney," Ms Berejiklian said.
"Today marks the start of the huge task of digging twin tunnels under the city, delivering Sydney's new world-class metro railway and building a stronger, better future for the people of NSW."
"Sydney Metro is an incredible project and it is only possible because of the strong economic management of the NSW Liberals & Nationals."
The TBM has been named Nancy in honour of transport pioneer Nancy Bird Walton OBE.
Nancy and another TBM will tunnel 8.1 kilometres from Marrickville to the new Sydney Metro station sites at Waterloo, Central, Pitt Street, Martin Place and on to Barangaroo, where they will be removed from deep underground.
The TBMs are about 150 metres long – that's longer than two Airbus A380s – and specially designed for Sydney's geology to cut through hard sandstone.
The five TBMs will excavate 5.9 million tonnes of rock – enough to fill about 940 Olympic swimming pools.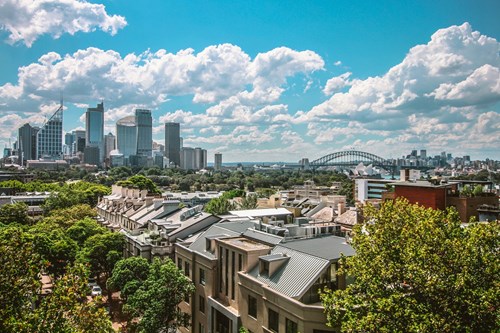 This is the first time in Australian history that five TBMs have worked on a transport infrastructure project.
"These machines are underground factories, mechanical worms designed to dig and line the tunnels as they go so that Sydney Metro can be delivered as quickly as possible," Mr Constance said.
"Nancy is specially designed to cut through our city's unique sandstone and shale and will tunnel an average of 120 metres a week."
Two TBMs will also dig 6.2 kilometres from Chatswood to the edge of Sydney Harbour. A fifth machine has been specially designed to deliver the twin tunnels under Sydney Harbour.
It is traditional to give a female name all machines which work underground, because workers look to Saint Barbara for protection.
Nancy Bird Walton OBE was an Australian pioneer aviator, the first female pilot in the Commonwealth to carry passengers and the founder of the Australian Women Pilots' Association. Yesterday (16 October 2018) would have been Nancy Bird-Walton's 103rd birthday.
Syndey Metro opens in the city's north west in the second quarter of next year – with 13 metro stations, 4000 commuter car parking spaces and 36 kilometres of new metro rail.
Metro rail is being extended into the Sydney CBD and beyond to Bankstown – in 2024, Sydney will have 31 metro stations and a 66 kilometre metro railway.
About Transport for NSW

Transport for NSW (TfNSW) lead the development of safe, integrated and efficient transport systems for the people of NSW. Our customers are at the centre of everything that we do, including transport planning, strategy, policy, procurement and other non-service delivery functions across all modes of transport - roads, rail, ferries, light rail and point to point. We work hand-in-hand with our operating agencies, private operators and industry partners to deliver customer-focused services and projects - we're making NSW a better place to live, work and visit.