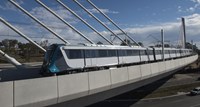 Sydney's new metro train has passed a historic test – crossing the new landmark railway bridge over Windsor Road at Rouse Hill in the last 24 hours.
Minister for Transport and Infrastructure Andrew Constance said this was the milestone we've all been waiting for.
"How incredible is this? That impressive new bridge over Windsor Road now has our driverless metro train doing test runs across it, meaning Metro is really becoming a reality," Minister Constance said.
"This is a historic moment that will help change the way we get around our great city for generations to come."
"Sydney Metro is on track to open in the first half of next year – we're getting on with the job of testing our new generation trains and finishing our stations to deliver a world class mass transit system to Sydney."
Testing over Windsor Road and on to the Skytrain towards the new Kellyville Station signals an expansion of the metro train testing program beyond Sydney Metro HQ at Rouse Hill.
Trains will initially be tested at 60km/h on the Skytrain before they are tested at up to 100km/h. Train testing will then progress into the new twin 15km railway tunnels between Bella Vista and Epping.
So far:
There has been about 10,000 kilometres of train testing at Rouse Hill;
44 kilometres of overhead wiring has been installed on the Sydney Metro Northwest project, out of a total of about 78 kilometres; and
Nine out of 22 trains have been delivered.
The Windsor Road railway bridge, similar in design to Sydney's Anzac Bridge, is the first cable-stayed railway bridge built on a curve in Australia.
The bridge was a design solution following community feedback, which means any future upgrade of the Windsor Road and Schofields Road intersection will not be impacted by the new metro railway.
Sydney Metro opens in the first half of next year in the north west – 13 metro stations, 4,000 commuter car spaces and a train every four minutes in the peak.
Metro rail will be extended into the city and beyond to Bankstown in 2024 – when Sydney will have 31 metro stations and a 66km metro rail system.
About Transport for NSW (TfNSW)

TfNSW lead the development of safe, integrated and efficient transport systems for the people of NSW. Their customers are at the centre of everything that they do, including transport planning, strategy, policy, procurement and other non-service delivery functions across all modes of transport - roads, rail, ferries, light rail and point to point. TfNSW work hand-in-hand with their operating agencies, private operators and industry partners to deliver customer-focused services and projects - they're making NSW a better place to live, work and visit.