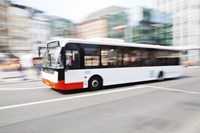 Transport for NSW is now accepting expressions of interest to develop a series of pilots trialling public transport services that turn up when and where customers need them.
Industry groups have an open invitation to pitch innovative models for on-demand services that offer more personalised and flexible technology enabled solutions that improve the quality of life for customers right across the state.
Customer Services Deputy Secretary Tony Braxton-Smith said partnering with industry leaders would put Transport for NSW at the forefront of the technology revolution.
"New and emerging technologies are changing the way that businesses operate with customers now expecting to get what they want when they want it, and transport needs to keep up," Mr Braxton-Smith said.
"The beauty of on-demand services is that they could improve the convenience and reliability of public transport for all customers, not just those on main transport routes.
"Staying ahead of the curve when it comes to adopting the latest technologies is a priority for Transport for NSW, which is why we developed the Future Transport Technology Roadmap earlier this year.
"Cultivating more personalised and tailored services is a key target identified in the Roadmap and this project is an important step towards that goal. Successful ideas will generate great opportunities for the market in future service contracts.
"The most innovative ideas often come through collaboration which is why we want leaders in the technology and transport industries to work with us to develop a clever, creative solution."
Expressions of interest in the On Demand Transport Pilot should be submitted through the NSW e Tendering website by 24 February 2017.
Following an evaluation period, all pilot programs are expected to be operational by the end of 2017.
About Transport for NSW
Transport for NSW is the lead agency of the NSW Transport cluster. Our role is to lead the development of a safe, efficient, integrated transport system that keeps people and goods moving, connects communities and shapes the future of our cities, centres and regions.