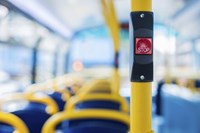 Transport Minister Humza Yousaf unveiled the new smartcard during a visit to Shiel Buses in Lochaber.
Transport Scotland has been working in partnership with Shiel Buses and HITRANS, the regional transport partnership for the Highlands and Islands on the new Smart ticketing for Lochaber.
People travelling on Shiel Buses will be able to purchase a 10-journey carnet, a 1 day or 7 day season ticket online or on the bus. It can be used on journeys between Fort William and Lochaline, Mallaig, Acharabcle, Lochailort, Lochaline and Kilchoan as well as on local buses in each area.
The new smart tickets will offer customers a quick and convenient way of paying for their travel and offer discounts on buying single tickets. The smartcard carries the saltirecard branding on one side and it can be pre-loaded before travel and topped up with additional journeys, as and when required on Shiel Buses, either online or on the bus.
Humza Yousaf, Minister for Transport and the Islands said:
"This is another important step towards the delivery of Smart-enabled travel products, that help to connect communities bringing benefits to passengers and operators alike. It is great to see Shiel Buses introducing commercial smart ticketing using products that can be loaded on any saltirecard. The use of Smart technology, to enable one card to fulfil many purposes, forms part of the Scottish Government's long-term vision that all journeys on Scotland's bus, rail, ferry, subway and tram networks can be made using some form of smart ticketing or payment."
Commenting on the announcement, David MacGilivray of Shiel Buses said:
"Shiel Buses are delighted to be working with Transport Scotland and HITRANS on the development and delivery of this Smart ticketing trial. Smart-enabled ticketing offers a host of benefits for our customers – from quicker boarding, to no need for a paper ticket or to find change for their fares. Our customers have already been enjoying the benefits of their smart cards with the ePurse and their feedback on the convenience of the smart card has been really positive. We look forward to hearing the feedback of more customers who choose to join us on our smart journey with these new products."
Ranald Robertson, Director of HITRANS, said:
"This is great news for travellers in an area that depends so much on public transport. HITRANS is delighted to have been a key partner in this initiative which meets our goal of making public transport more accessible to residents in our remote region. The convenience afforded by the ePurse and online purchase of the smart products is particularly useful in remote areas where access to ATMs is not quite as easy as in town."
About Transport Scotland
Transport Scotland is the national transport agency for Scotland.
Transport for Scotland seeks to deliver a safe, efficient, cost-effective and sustainable transport system for the benefit of the people of Scotland, playing a key role in helping to achieve the Scottish Government's Purpose of increasing sustainable economic growth with opportunities for all of Scotland to flourish.