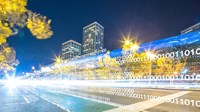 Innovation in transport is at risk because data is not being shared in the sector – according to a new report commissioned by the Transport Systems Catapult (TSC) and using analysis from the Open Data Institute (ODI) and Deloitte. Fears around cyber security, lack of data literacy skills and a legacy of viewing transport modes such as rail and road in isolation are restricting the free flow of information, preventing the UK from unlocking the full potential of its transport network. According to the TSC, overcoming these barriers could unlock £14bn of benefits from new innovations by 2025.
Technologies such as driverless cars, journey planning apps and smart ticketing are all identified as opportunities which can be fully exploited with a strong data regime that opens and shares as much data as possible while respecting privacy. The TSC is calling on government to work closely not only with the Catapult, but industry to develop a data culture by providing a framework for secure access to data and guidelines for opening and sharing data; led by a new Mobility Data Hub to help the public and private sector work together and breakdown the barriers.
The report shows that investment in data could lead to faster journeys, lower emissions, improved regional connections and opportunities for job creation in an emerging technology sector – without the need for massive infrastructure building projects.
Andrew Everett, Chief Strategy Officer at Transport Systems Catapult:
"Overcrowding on our rail network, congestion on our roads and the ongoing struggle with pollution and climate change can all be addressed by Intelligent solutions which make use of the opportunities afforded to us by new technologies. However, data is the key which unlocks the door to these innovations and, under the current status quo, data accessibility levels will remain inadequate for the UK to benefit fully. Issues such as cyber security should be tackled head on to overcome this and a coordinated approach between government and industry will be required to move forward."
Sir Nigel Shadbolt, Chairman and Co-Founder of ODI:
"Data is essential to realise the vision of a future transport system that meets the expectations and exploits the capabilities of the internet age. To help people and goods move easily, cheaply and efficiently across every form of transport we need data to flow freely too. That data can help everyone make better decisions: passengers, freight companies, transport operators and policymakers.
Failure to act on open data will mean poorer quality services, reduced transport connectivity and a lost opportunity for the UK to use Intelligent Mobility as a driver for economic growth and social change."
About Transport Systems Catapult

Transport Systems Catapult is one of ten elite technology and innovation centres established and overseen by the UK's innovation agency, Innovate UK.
We were created to drive and promote Intelligent Mobility – using new and emerging technologies to transport people and goods more smartly and efficiently.
We are helping UK businesses create products and services that meet the needs of the world's transport systems as they respond to ever-stretching demands. We help sell UK capability on the global stage, while also promoting the UK as a superb test bed for the transportation industry.
With a clear emphasis on collaboration, we are bringing together diverse organisations across different modes of transport, breaking down barriers and providing a unique platform for meeting the world's most pressing transport challenges.