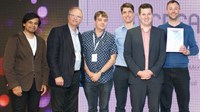 A team that won the Transport Systems Catapult's Hackathon competition in 2016 have gone on to receive a £100,000 grant to develop their idea for use in the transport industry.
Going by the name Total Trip, Andy Watt, Richard Jordan and Nico Contentin took first place in the June 2016 IMCreate 2 Hackathon, which posed a series of innovation challenges based on the needs of the UK transport network.
The Trio created a Bluetooth Beacon based technology solution, which provides alternatives to smart ticketing on bus and train journeys. Their app uses Bluetooth on a passenger's phone to identify the individual bus or train the passenger has boarded, and automatically charges the passenger, without using GPS or actively tracking the passenger.
Earlier this year, the team entered a number of funding competitions organised by InnovateUK - the UK's government technology funding body, which resulted in them winning the £100,000 grant (UK businesses could apply for a share of up to £15 million to develop innovative solutions to challenges in infrastructure systems).
Speaking at the conclusion of the Hackathon, TSC Marketing director, Stephen Lynn said: "All the judges were highly impressed with the solutions presented during the 2016 Hackathon. In a short space of time, Total Trip converted complex data and technology into an idea which can generate tangible improvements to the travelling public. Total Trip's Bluetooth enabled transactions will revolutionise how we travel and I can't wait to see this rolled out across the UK."
Richard Jordan, Total Trip founder said: "We were delighted to win the hackathon and the support of TSC has been instrumental in getting the idea to the stage where we could submit the bid to Innovate UK. With the advent of driverless travel and automation of the transport system as a whole, this type of technology will be essential. We're looking forward to implementing the work set out in the bid and bringing true ticketless travel to the UK and across the world."
Our next hackathon 'HS2 Hackathon', takes place Friday 8th and Saturday 9th December here at the TSC.
About Transport Systems Catapult

Transport Systems Catapult is one of ten elite technology and innovation centres established and overseen by the UK's innovation agency, Innovate UK.
We were created to drive and promote Intelligent Mobility – using new and emerging technologies to transport people and goods more smartly and efficiently.
We are helping UK businesses create products and services that meet the needs of the world's transport systems as they respond to ever-stretching demands. We help sell UK capability on the global stage, while also promoting the UK as a superb test bed for the transportation industry.
With a clear emphasis on collaboration, we are bringing together diverse organisations across different modes of transport, breaking down barriers and providing a unique platform for meeting the world's most pressing transport challenges.