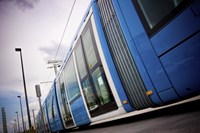 HS2 Ltd and the Transport Systems Catapult are calling on students, entrepreneurs, data scientists, coders, creatives and business thinkers to team up and create solutions for one of the biggest modern infrastructure projects in the UK – HS2.
At its Hackathon on the 8th and 9th December, HS2 Ltd will be asking teams of up to 5 people, formed from the individuals or pre formed teams that attend, to consider how new technologies and solutions might revolutionise the way the HS2 project is developed. Areas to be explored include:
Wellbeing - Whether employee well-being and safety could be improved through wearable technology or human machine interface design.
Augmented and VR Inspection - How augmented reality and virtual reality technology might create a step change in construction and operation practices such as training and maintenance inspection.
Systems Engineering and Integration - How an integrated systems approach and the Internet of Things might revolutionise the operations which drive the customer's experience of using HS2.
Asset Data - How better asset data management can help reduce longer term assets management costs.
Bandwidth - How HS2 can optimise bandwidth to achieve communications reliability across its network, to maximise passenger experience levels and deliver reliable railway operations?
Being a Good Neighbour - How existing and new technologies can help us gain understanding to minimize disruption to passengers and communities during construction of HS2 and make our new HS2 Stations perform even better for everyone. This could be framework for real-time operations monitoring or a technology demonstrator aimed at digitalising and reporting on real-time operations.
How does it work?
Taking place over two days. including Friday night, you will be tasked with forming teams and developing solutions which will help make HS2 a world leader in innovation, before pitching to a panel of judges at the end of the event. Pre-arranged teams are also allowed.
Teams who come up with the best ideas over the two days will be invited to take part in a showcase event in January where a panel of judges will decide which projects will be developed with HS2.
Food, drink and entertainment will be provided throughout!
Participants must not be employed by companies involved in open tenders for HS2 contracts. If you are unsure whether this applies to you, please register anyway and you will be contacted by TSC if you aren't allowed to take part.
About Transport Systems Catapult

Transport Systems Catapult is one of ten elite technology and innovation centres established and overseen by the UK's innovation agency, Innovate UK.
We were created to drive and promote Intelligent Mobility – using new and emerging technologies to transport people and goods more smartly and efficiently.
We are helping UK businesses create products and services that meet the needs of the world's transport systems as they respond to ever-stretching demands. We help sell UK capability on the global stage, while also promoting the UK as a superb test bed for the transportation industry.
With a clear emphasis on collaboration, we are bringing together diverse organisations across different modes of transport, breaking down barriers and providing a unique platform for meeting the world's most pressing transport challenges.