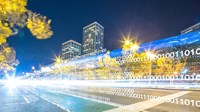 Following the launch of the government's Industrial Strategy the Transport Systems Catapult (TSC) has welcomed the renewed focus on research and development and the inclusion of future mobility as a key challenge besides Artificial Intelligence, aging population and clean growth.
The TSC is citing a transport revolution which is dramatically changing the way we move people and goods, with increased focus needed to ensure the UK reaps the benefits. They comment that there will bring huge economic opportunities, but the UK will need to address market failures and fight for a place alongside major international players such as China and the US.
CEO Paul Campion comments:
"The Transport Systems Catapult believes the government's Industrial Strategy is a positive step towards the UK gaining a share of an emerging £900bn global future mobility market, featuring connected and autonomous vehicles, data driven business models and smart infrastructure solutions. A transport revolution is coming, and the way we travel and move goods will change dramatically in the next decade. The Industrial strategy is an opportunity to make sure the UK is at the forefront of this revolution, rather than being mere passengers – with the economic rewards going overseas.
Focus on investment in research and development funding, increasing to 2.4% of GDP by 2027, is welcome and justified within the transport sector. We are one of the world's most productive car manufacturers and thanks to the cluster of high technology businesses around the Formula 1 racing teams based here, we have world-leading skills in building innovative and advanced engines and powertrains.
In aerospace, too, we are a major manufacturer and a leading technology developer, and in rail, bus manufacture and other niche areas the UK has a very strong position. Our marine segment is world class. And to support all this, our universities are world-famous for research in transport.
We are already seeing a number of high profile projects testing new connected and autonomous vehicle technology in the UK – including the UK Autodrive project which this month began trialling multiple vehicles on open public roads in Coventry. We are also seeing a large number of new businesses being created around the use of data to improve transport infrastructure, planning and customer experience. Our own newly created Intelligent Mobility Accelerator programme has found no shortage of innovative applicants looking to develop new transport technologies in the UK.
With this background we are confident that increased investment in future mobility can lead to high quality jobs, innovation and growth in the UK economy – even as we compete on the world stage with the likes of China and the US.
However, there are also considerable market failures to address if we are to achieve the full benefits of new mobility solutions. Siloed thinking in our highly complex transport network and a lack of confidence in sharing data will hold us back if not addressed. Breaking down these barriers will be the key to unlocking capacity in our transport infrastructure, reducing congestion, and integrating automated vehicles into our current transport system. Promoting the value of collaboration and helping established transport providers re-align their businesses to meet global technology trends will be as important as bottom-line investment in new ideas.
The central role that the TSC can perform, alongside our sister catapults, is to be a neutral, independent integrator that brings together the various players in the industry to develop solutions that, working separately, would either not happen at all or else happen far too slowly. Working in tandem with the government's industrial strategy we believe we can make the UK a world leader in transport innovation and ensure a bright future for the sector."
About Transport Systems Catapult

Transport Systems Catapult is one of ten elite technology and innovation centres established and overseen by the UK's innovation agency, Innovate UK.
We were created to drive and promote Intelligent Mobility – using new and emerging technologies to transport people and goods more smartly and efficiently.
We are helping UK businesses create products and services that meet the needs of the world's transport systems as they respond to ever-stretching demands. We help sell UK capability on the global stage, while also promoting the UK as a superb test bed for the transportation industry.
With a clear emphasis on collaboration, we are bringing together diverse organisations across different modes of transport, breaking down barriers and providing a unique platform for meeting the world's most pressing transport challenges.