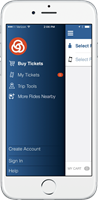 TriMet riders now have the ability to connect with other transportation options as part of a new feature in our TriMet Tickets mobile app, called RideTap, developed by moovel North America (formerly GlobeSherpa). TriMet is the first U.S. transit agency to pilot the RideTap feature that enables riders to tap into nearby transportation options from one app to help with the first or last mile of their trips.
Initially, RideTap includes ride-sharing services Lyft and car sharing service car2go. More options, including BIKETOWN bike sharing, are expected be included in the future.
Last month, GlobeSherpa, the maker of the TriMet Tickets app, merged with Austin, Texas-based RideScout to form moovel North America, Daimler's answer to the current disconnect between public and private transportation options in North America.
"We hope this new feature will help our riders find options for their first or last mile of a trip, allowing them to more easily reach their destinations," said Alan Lehto, director of policy and planning at TriMet. "We're looking forward to getting feedback from our riders to see if the new tool helps improve their ability to use transit and other modes to reach their destinations."
How to use RideTap
To use RideTap, riders must do the following:
• Download the latest version of the TriMet Tickets app.
• Access RideTap by tapping the navigation drawer in the top-left corner of the screen and select "More Rides Nearby."
• The nearest transportation options will appear, displaying the exact distance or number of minutes the ride is away.
• Riders can then select which alternative transportation provider to use to begin or complete their trip.
"moovel NA is committed to improving Portland's transportation ecosystem, with public transit at its core," said Nat Parker, CEO of moovel. "TriMet was GlobeSherpa's first mobile ticketing customer and we're now excited to extend the transit experience with car2go and Lyft offerings through moovel's RideTap SDK, which can be integrated into any app."
Use RideTap during major MAX construction project
The unveiling of the pilot comes at an opportune time. With MAX service disrupted in downtown Portland plus fewer trains running throughout the system during construction of track and switch improvements along 1st Avenue between May 8-21 — riders can take advantage of the new tool. Both Lyft and car2go will offer discounts to riders through the TriMet Tickets app. In addition, more Lyft drivers and car2go vehicles also will be positioned near high-traffic transit stations throughout the metro area.
Lyft will provide an offer to both new and existing users. New Lyft users can enter code "FIRSTAVE" for $5 off their first 10 rides through the app. Existing users can enter code "LTMP16" for 20 percent off a Lyft ride (up to a $5 discount). The offer for current Lyft members is valid for the first 1,000 people who claim it.
Meanwhile, car2go will offer new members free registration and 15 minutes of drive time with promotion code "C2G15." It takes between five and seven days for car2go membership activation. Register here. For existing car2go members, spend $100 in drive time (excluding fees and taxes) in May 2016 and receive 20 minutes in drive time. To redeem, email your membership information to portland@car2go.com. Offers are only valid in Portland until June 12, 2016, and there's only one redemption per member. Drive time will be valid in Portland for 45 days from the date of issue. This offer is not redeemable for cash or other credit.
Portland Transportation Director Leah Treat said RideTap could provide a step toward delivering on technology the City of Portland and partners are pursuing as a finalist for the Smart City Challenge, which would grant $50 million from U.S. Department of Transportation and Seattle-based Vulcan Inc. The Portland proposal would create Ubiquitous Mobility, an app that would provide a comprehensive connection of all public and private transportation assets into an interactive network.
"Congratulations to TriMet and moovel on a breakthrough that continues the long tradition of Portland transportation innovation," said Treat, of the Portland Bureau of Transportation. "Our Portland Streetcar system was an early adopter of the GlobeSherpa mobile ticketing technology. With public and private partnerships and bold ideas like this, our Smart City Challenge proposal will make improve lives by making transportation safer, easier, and more reliable."
About Trimet
TriMet provides bus, light rail and commuter rail service in the Portland, Oregon, region. Our transportation options connect people with their community, while easing traffic congestion and reducing air pollution — making our region a better place to live.