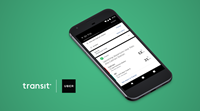 Getting around their city for many riders is a multimodal affair. Here in SF for instance, a rider may take an uberPOOL to the Burlingame Caltrain station, take the Caltrain to 4th & King St, and then walk a few blocks to their SOMA office or the ballpark. But keeping tabs on upcoming departure times for the train while in an Uber means toggling between apps.
We want to make it easier for riders to combine Uber with public transit, so we've integrated with the Transit app on Android in nearly 50 U.S. cities.
Starting today, when riders are in an Uber and their destination is or a block away from a transit stop, we'll begin showing them upcoming departure times in the Uber feed. We'll refresh these times regularly so riders have the latest information right at their fingertips. And if they want to learn more, one tap will take them to the Transit app for a-to-b directions, service disruption information, and more.
"Our integration with Uber is a perfect match, as we both envision a future in which every journey is shared using a combination of transit options." – Jake Sion, Chief Operating Officer, Transit
In this type of future, we can have:
Better connected cities, where people can easily access all neighborhoods including areas underserved by transit.
A viable alternative to personal car ownership since people can always get a ride when and where they need one. Plus, it's often more cost efficient to use a variety of transit options rather than owning a car.
Reduced traffic and parking because public transit and carpooling can mean fewer cars on the road and less congestion.
While there's still much more work to do, we're excited that our integration with Transit can help us get one step closer to this reality.
The integration will be available on Android to start, in the following U.S. cities: Albuquerque, Ann Arbor, Atlanta, Baltimore, Boston, Buffalo, Charlottesville, Chattanooga, Chicago, Cincinnati, Cleveland, Connecticut, Dallas, Dayton, Denver, Detroit, Fort Myers, Grand Rapids, Hampton Roads, Honolulu, Houston, Indianapolis, Jacksonville, Kansas City, Las Vegas, Los Angeles, Louisville, Madison, Miami, New Orleans, New York City, Orlando, Philadelphia, Phoenix, Pittsburgh, Portland (ME), Portland (OR), Raleigh, Sacramento, Salt Lake City, San Diego, SF Bay Area, Seattle, St. Louis, Tampa Bay Area, DC and Worcester.
About Uber
Uber is a technology platform that is evolving the way the world moves. By seamlessly connecting riders to drivers through our apps, we make cities more accessible, opening up more possibilities for riders and more business for drivers. Uber's April '15 partnership with the Dallas Area Regional Transit (DART) marked the first ever formal partnership between a public transit agency and a Transportation Network Company (TNC). From our founding in 2009 to our launches in over 350 cities today, Uber's rapidly expanding global presence continues to bring people and their cities closer.
About Transit
Transit solves the urban commute in over 130 cities worldwide. Right on launch, the app displays all nearby transport options and departure times in big text and bright colors. Users can easily navigate public transit with accurate real-time predictions, simple multimodal trip planning, and step-by-step navigation. The app also integrates other sustainable transport modes — bikesharing, carsharing and Uber — so users can determine the best way to get from A to B. With millions of active users, Transit has emerged as the leading public transport app in North America. The company is based in Montreal, QC.