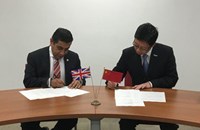 The UK and China have agreed to more than double the number of flights allowed to operate between the 2 countries, following successful negotiations in London today (11 October 2016).
The move is set to boost tourism and trade opportunities for the UK - links which will be vital as we look to build a confident, Global Britain after Brexit.
Under the new deal passenger flights can now increase from the current maximum of 40 per week for each nation to up to 100. There will be no limit on the number of all-cargo services, creating new opportunities for UK trade and businesses.
A restriction on the number of destinations that airlines can serve has also been lifted, meaning services can be operated between any point in the UK and any point in China. Up until now, airlines could only serve 6 destinations in each country.
Transport Secretary Chris Grayling said:
"This deal is a big moment for the UK. Strong connections with emerging markets like China are vital for us if we are to continue competing on the global economic stage. Hundreds of thousands of Chinese people visit the UK every year, spending hundreds of millions of pounds. Raising the number of permitted flights between the 2 countries will provide massive opportunities for our businesses, helping increase trade, create jobs and boost our economy up and down the country."
Aviation Minister Lord Ahmad said:
"I am delighted that talks between the UK and China have concluded successfully as a result of which flight limits will be increased, thereby enabling airlines to operate more services between the 2 countries. These new arrangements will further strengthen British - Sino relations. Post Brexit, improving trade links with key markets such as China will boost exports and tourism, as well as helping create jobs and strengthening our local economies. This deal demonstrates that the UK is very much open for business."
Visits from China are on the increase. Visits in 2015 were up 46% on 2014 to almost 270,000. Spend increased by 18% to £586 million during the same period, moving China into the UK's top 10 most valuable inbound markets.
Earlier this year Manchester Airport launched the first direct route between the UK and China from an airport outside of London, bringing an estimated £250 million in economic benefits to the UK over the next decade.
The final decision on additional flights is a commercial one for airlines.
About the UK Department of Transport
The UK Department of Transport works with our agencies and partners to support the transport network that helps the UK's businesses and gets people and goods travelling around the country. We plan and invest in transport infrastructure to keep the UK on the move.