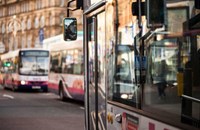 Leeds will benefit from high frequency 'busways', improved park and ride facilities and better stops and signs after Transport Minister Andrew Jones confirmed a £173.5 million funding package today (21 April 2017).
The multimillion pound investment includes new integrated bus corridors, including segregated lanes and real time information for passengers making journeys in and around the city centre.
Commuters will see more reliable journeys, and better travel information, with a focus on improving the daily experience of bus users.
It also allows Leeds to develop proposals for local rail improvements, subject to wider rail industry consultation.
Transport Minister Andrew Jones said:
"New segregated bus corridors and investment in park and ride schemes will be a huge benefit to people who live and work in Leeds, and those who visit the city.
"This investment will make public transport in Leeds more accessible and reduce journey times.
"Better transport facilities don't just help people get around, they help them get on – connecting them to jobs and helping to deliver economic growth in the north."
It will cover a 4 year period, with West Yorkshire Combined Authority receiving:
£21 million in 2017/18
£48.7 million in 2018/19
£49.1 million in 2019/20
£54.7 million in 2020/21
Leader of Leeds City Council Councillor Judith Blake said:
"We are delighted that the Department for Transport has given its support for our plans which have the potential to transform public transport in Leeds, with improvements we can deliver in the coming years in keeping with what the people of Leeds told us they want to see.
"That is making it quicker and easier for everyone to be able to move around the city as well as connecting people and businesses to places and jobs, increasing productivity and supporting major economic growth areas."
West Yorkshire Combined Authority Transport Chair Councillor Keith Wakefield said:
"These plans to build on successful developments on the county's rail and bus networks are in line with the combined authority's aim of developing a modern integrated transport network that benefits the whole of Leeds City Region."
In addition, First Group have agreed in principle to commit £71 million to providing 284 new low emission buses by 2020 for use in Leeds.
Managing Director of First West Yorkshire Paul Matthews said:
"Today's announcement is the first major step towards transforming Leeds's transport network and I'm proud that First West Yorkshire is a pivotal part of this.
"We remain committed to our pledge to invest £71 million in ultra-low emission vehicles by the end of 2020, but it's hugely important that we continue to work in partnership with Leeds City Council and the West Yorkshire Combined Authority so that we can tackle the issue of congestion thereby improving the reliability of services and encouraging even more people to travel by bus."
About The UK Department for Transport
The UK Department for Transport works with our agencies and partners to support the transport network that helps the UK's businesses and gets people and goods travelling around the country. We plan and invest in transport infrastructure to keep the UK on the move.