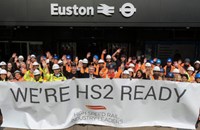 HS2 took a major step forward today (23 February 2017) as Britain's new railway successfully completed over 3 years of Parliamentary scrutiny to receive Royal Assent.
Construction will now begin on schedule in the spring. Today also sees the launch of schemes totalling £70 million for communities along the route between Birmingham and London.
Transport Secretary Chris Grayling said:
"Getting the go-ahead to start building HS2 is a massive boost to the UK's future economic prosperity and a further clear signal that Britain is open for business.
"HS2 will be the world's most advanced passenger railway and the backbone of our rail network. Royal Assent is a major step towards significantly increasing capacity on our congested railways for both passengers and freight; improving connections between the biggest cities and regions; generating jobs, skills and economic growth and helping build an economy that works for all.
"By investing in infrastructure the government is seizing the opportunity provided by leaving the EU to build a more global Britain. We will now press ahead with constructing the railway while continuing to ensure affected communities get appropriate support and are treated with fairness, compassion and respect."
HS2 will create around 25,000 jobs during construction as well as 2,000 apprenticeships. It will also support growth in the wider economy, worth an additional 100,000 jobs.
From 2026 tens of thousands of passengers will be using high speed trains every day between London and Birmingham; services will travel onwards to places like Manchester, Glasgow, Liverpool, Preston and Wigan.
From 2033, the high speed network will go into the centres of Manchester and Leeds and services will go onwards to places such as Darlington, Newcastle and Edinburgh.
David Higgins, Chairman of HS2 comments:
"Achieving Royal Assent for Phase One of HS2 between Birmingham and London with such significant parliamentary support, is a monumental step in transforming rail travel in Britain. We have a long journey ahead of us to build the railway and secure permission for Phase Two to make sure that the full benefits of HS2 are realised. This journey will see businesses right along the route benefit from greater access to the skills, markets and professional services they need to succeed in today's global market. It will directly create some 25,000 jobs as well as forcing the pace of innovation in the construction industry.
"Throughout this process HS2 remains committed to mitigating the environmental impacts whilst continuing to engage with each individual community which is making sacrifices to enable a 21st century railway network to be built in Britain."
The High Speed Rail (London – West Midlands) hybrid Bill – essentially the planning application for HS2 – received overwhelming support from MPs. In the Bill's third reading in the Commons MPs voted 399 to 42 in favour. In the Lords, the figures were 386 to 26 in support of the Bill passing.
The government has previously introduced a comprehensive package of compensation and assistance for those directly affected by HS2.
Today sees the launch of schemes for communities along the route between Birmingham and London to access more than £70 million government funding.
These are:
The Homeowner Payment (HOP) scheme. This is available to property owners in rural areas who live between 120 and 300 metres from the HS2 line wherever it is not in a deep tunnel. Eligible property owners can apply for £7,500, £15,000 or £22,500, depending on how close they live to the proposed line.
Two funds, worth £40 million, are now open for bids: the Community and Environment Fund (CEF) and the Business and Local Economy Fund (BLEF). The CEF will help enhance community facilities, improve access to the countryside and conserve the natural environment, while the BLEF will support local economies in areas where businesses may experience disruption from the construction of HS2.
The CEF and BLEF together make up £40 million and will be allocated at a regional level: £15 million for the central area (Staffordshire, Warwickshire, Buckinghamshire Northamptonshire, Oxfordshire and Hertfordshire), £7.5 million for Greater London and £7.5 million for the West Midlands (Birmingham, Solihull and Coventry). The remaining £10 million will fund cross-border or route wide projects.
A further £30 million road safety fund will go towards local road safety schemes in areas not currently accustomed to construction traffic. This will help provide a legacy of improvements for areas adversely affected by Phase One traffic.
About The UK Department for Transport
The UK Department for Transport works with our agencies and partners to support the transport network that helps the UK's businesses and gets people and goods travelling around the country. We plan and invest in transport infrastructure to keep the UK on the move.