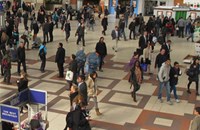 Passengers in south east London, Kent, the Medway towns and East Sussex are on track to get improved journeys, as the Department for Transport (DfT) seeks views on a new franchise in the south-east.
South Eastern handles 640,000 passenger journeys on 1,900 train services every weekday. The government is keen that passengers, local councils and anyone with an interest in improved service on the South Eastern franchise take the opportunity to shape what the next operator will deliver.
The Secretary of State for Transport, Chris Grayling said:
"Passengers on a new South Eastern franchise from 2018 will enjoy modern trains with more space and a more punctual and reliable service.
"This consultation sets out what we expect the next operator to deliver for passengers, including working more closely with Network Rail to ensure a focus on performance, and innovative use of technology to improve both ticket buying and compensation if things do go wrong."
DfT's ambitions for this franchise include:
creating more space for passengers by running longer trains and upgrading or replacing older trains
increasing reliability and reducing delays by the train operator working closely with Network Rail
improving compensations arrangements with a simple automated system
introduction of a smarter payment system, including mobile phones
improving customer service with staff able to respond quickly and effectively to passenger's needs
These ambitions need an innovative new approach from the rail industry. As the Secretary of State set out in his speech on 6 December 2016, this will be the first franchise to have an integrated operating team between train services and infrastructure. This means that the new operator must form an alliance with Network Rail, working as one team to deliver a better railway for passengers.
Kent County Council Cabinet Member for Environment and Transport Matthew Balfour said:
"We welcome this consultation by DfT and would encourage everyone who uses the rail service in Kent to take part.
"This consultation will help Kent County Council to ensure the best rail service for all passengers using the new South Eastern franchise.
"Kent County Council is already represented in the DfT's new franchise team. The council will respond to the consultation to ensure a better rail service for all Kent's rail passengers in the new franchise."
Leader of the London Borough of Bexley, Cllr Teresa O'Neill OBE said:
"As one of the few London Borough's without a tube line Bexley's residents rely heavily on the rail service. This kind of opportunity to have a say on priorities for the future provider should not be missed. I would encourage as many people as possible to take part in the survey or visit one of the information events so they can help inform the final decision."
Medway Council's Portfolio Holder for Front Line Services Cllr Phil Filmer said:
"South Eastern is a major transport provider for Medway and thousands of our residents use the service every day. It's therefore important that people living in Medway have their say on how their journeys could be improved and what sort of changes they'd like to see. By commenting on the upcoming consultation customers can help shape the future of travel in Medway and the surrounding areas."
People are today also being encouraged to respond to a Network Rail consultation about their Kent area route study. This contains their suggestions for improvements to the network in the south-east that will help it cope with the increased numbers of people expected to use the railway in south-east London and Kent in the next 30 years.
About The UK Department for Transport
The UK Department for Transport works with our agencies and partners to support the transport network that helps the UK's businesses and gets people and goods travelling around the country. We plan and invest in transport infrastructure to keep the UK on the move.