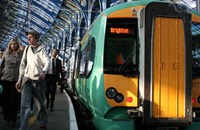 Tens of thousands of Southern rail passengers are to be repaid the equivalent of a month's travel for the extraordinary disruption they have suffered, the government announced today (2 December 2016).
More than 84,000 passengers will be compensated to recognise the particular hardship of those who have suffered long delays, cancellations and disruption in recent months. This disruption is due to a number of causes including Network Rail track failures, engineering works, unacceptably poor performance by the operator and the actions of the RMT union.
Season ticket holders will be able to claim a refund for the equivalent of a month's (4 weeks) travel. That means an annual season ticket holder will be able to claim a refund against their 2016 ticket, which can be paid directly into their bank account.
This is a one off compensation payment and is in addition to the improved Delay Repay 15 compensation scheme, which will begin operation on Govia Thameslink Railway (GTR) services from December 11, ministers announced today.
Rail Minister Paul Maynard said:
"Getting Southern rail services back on track is a priority for the government and I know that what passengers want most is a reliable service. But when things do go wrong it is right that we compensate people who have not had the service that they deserve. This is a gesture in recognition of the problems people have faced.
"We're working hard to get Network Rail and Southern to improve this network and get this railway working the way people expect. We are investing record amounts in improving our railways and we need everyone in the rail industry, including the unions, to work together to deliver for passengers.
"In addition from next week (11 December 2016) passengers will be able to claim compensation if their train is more than 15 minutes late. This is a major improvement for passengers."
GTR, the parent company of Southern, has the details of most season ticket holders who will have given their details when purchasing their tickets. It will be inviting them to log into a website to claim compensation - which can be transferred directly to their bank account or claimed as vouchers.
Customers claiming against quarterly, monthly or weekly tickets must have bought travel for at least 12 weeks between 24 April 2016 and 31 December 2016 to be eligible.
GTR will also be able to consider proof of purchase from people claiming this compensation who are not registered with the company.
Under the separate scheme 'Delay Repay 15', GTR passengers will be able to claim 25% of the cost of the single fare for delays between 15 and 29 minutes, with passengers able to apply for compensation through the train operating company.
Following its introduction on GTR services, which include Thameslink, Great Northern, Southern and Gatwick Express airport trains, 'Delay Repay 15' will be rolled out across the rail network, starting with the new South Western, West Midlands and South Eastern franchises.
All franchise competitions let by the department will include requirements to introduce this policy and the department is exploring opportunities to roll it out for all DfT franchises in this Parliament.
The existing 'Delay Repay' thresholds are as follows:
50% of the single fare for delays of 30 to 59 minutes
100% of the single fare for delays of 60 minutes or more
100% of the return fare for delays of 2 hours or more
About The UK Department of Transport
The UK Department of Transport works with our agencies and partners to support the transport network that helps the UK's businesses and gets people and goods travelling around the country. We plan and invest in transport infrastructure to keep the UK on the move.