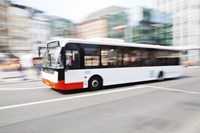 Thousands of buses and taxis will be made greener and cleaner after the Transport Secretary confirmed a £290 million investment to support low emission vehicles today (29 November 2016).
It reiterates the government's commitment to reduce carbon emissions from transport and is a major step towards our aim for nearly all cars and vans to be zero emission by 2050.
Improving air quality is a priority for this government and we are determined to cut emissions. We will invest £150 million in cleaner buses and taxis, which will include putting new, less polluting buses on the road as well as retrofitting engines to reduce nitrogen oxide (NOₓ) emissions.
The government has also pledged £80 million to improve charging infrastructure for electric vehicle owners. The Workplace Charging Scheme (WCS) is now open for applications.
The £290 million funding will be invested in a number of projects, including:
£150 million for cleaner buses and taxis will provide better journeys and help tackle air quality challenges in our towns and cities
£80 million to improve electric vehicle charging infrastructure
£20 million for an Advanced Renewable Fuel Demonstration Competition

this will provide grant funding, matched by the private sector, to build demonstration-scale advanced renewable fuel plants in the UK
this will target the decarbonisation of lorries and planes
A further £100 million will support our plans to develop and test connected and driverless vehicle technology.
Transport Secretary Chris Grayling said:
"We are absolutely determined to reduce carbon emissions from transport as part of our ongoing commitment to tackle climate change.
"This government is committed to improving air quality and reducing pollution in towns and cities, which is essential for people's health and the environment.
"We are already making headway through our investment in low emission vehicles, greener public transport and walking and cycling, as well as grants for innovative advanced biofuels projects."
Poppy Welch, Head of Go Ultra Low, said:
"The £80 million investment in charging infrastructure is vital as growth in the UK electric car market continues to accelerate.
"This is fantastic news for motorists and the continuation of incentives for plug-in vehicles through company tax and salary sacrifice schemes will give thousands more people the option of choosing the very lowest emitting cars and allow more businesses to benefit from adding electric vehicles to their fleets."
About The UK Department of Transport
The UK Department of Transport work with our agencies and partners to support the transport network that helps the UK's businesses and gets people and goods travelling around the country. We plan and invest in transport infrastructure to keep the UK on the move.