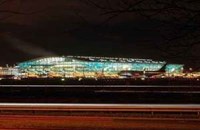 The government has announced new measures to cut the noise allowed from night flights at Heathrow, Gatwick and Stansted.
Measures out for public consultation will help encourage the use of quieter aircraft to limit the number of people significantly affected by aircraft noise at night, while maintaining the existing benefits to passengers and the economy of night flights.
Current night flight restrictions at the 3 airports expire in October 2017, and the new rules will last for the next 5 years up to 2022.
Measures out for consultation include:
reducing the total noise quota at Heathrow Airport by at least 43% in the winter (from 4,080 to 2,340) and 50% in the summer (5,100 to 2,540)
reducing noise quotas at Gatwick by at least 17% in the winter (from 2,000 to 1,655) and 21% in the summer (6,200 to 4,870)
setting a strict cap at existing levels for the number of night flights from Heathrow and Gatwick
ending exemptions for almost 1700 night flights operating out of Stansted by including these in the new cap, setting a strict limit which the airport cannot exceed
Aviation Minister Lord Ahmad said:
"This government is committed to tackling the issue of aircraft noise, especially flights at night, which can be a blight for people living near airports."
"Night flights are, however, important to the economy, creating extra choice for passengers and moving freight, and we need to carefully balance the needs of local communities with the benefits these flights can bring. That's why we are encouraging the use of quieter aircraft by bringing in tighter noise quotas at the airports and setting strict caps on aircraft movements at night."
The consultation will run until Tuesday 28 February 2017, after which responses will be reviewed and a final decision on night flights will be published.
About the UK Department for Transport
The UK Department of Transport works with our agencies and partners to support the transport network that helps the UK's businesses and gets people and goods travelling around the country. We plan and invest in transport infrastructure to keep the UK on the move.