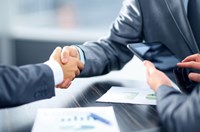 On 20th April 2016 a conference on the subject "Urban Nodes - European Transport Development" took place in Verona. At the invitation of the Veneto Region and the responsible Minister of Public Works, Infrastructure and Transport Elisa De Berti, Kathrin Schneider, Minister of Infrastructure and Spatial Planning of Brandenburg, attended the conference. Representatives of Veneto Region and the EU as well as from neighbouring regions and enterprises were involved. They debated about current issues related to transport networks, intermodal connections and infrastructure, investment and strengthening of transnational corridors.
Contacts between partners along the Scandinavian-Mediterranean-Corridor have been further consolidated. Mrs. Schneider presented the successful example Berlin-Brandenburg as an Urban Node as part of the corridor development in the EU. Again the main elements of the further development of Nodes, like the improved integration of Urban Nodes into TEN-T-Network have been communicated. The conference supported the aims of Scandria®, especially its establishment along the corridor and the development of Scandria® Alliance.
About "Urban Nodes" in general:
http://www.scandria-corridor.eu/index.php/en/corridor/urban-nodes
About Scandria
(Today) The term "SCANDRIA®" covers:
a geographic corridor from the European North to the European South
a transnational project family 2009-2012, and
several organisations that will form an alliance to encourage closer cooperation.