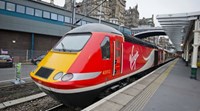 WASHINGTON– The U.S. Department of Transportation's (DOT) Federal Transit Administration (FTA) reminds states that only one year remains until the April 15, 2019, deadline to obtain FTA certification of their State Safety Oversight (SSO) Programs to provide more effective oversight of rail transit systems in their jurisdictions.
"Safety is our top priority, and FTA is committed to working with states to help them fulfill their safety responsibilities," said FTA Acting Administrator K. Jane Williams. "These Safety Oversight Programs will make our rail transit systems safer for the millions of Americans relying on them each day."
FTA is prohibited by law from awarding new federal transit funds to any transit provider in a state that fails to meet the deadline, until certification is achieved. This includes all FTA formula and competitive grant programs, such as the Capital Investment Grant program. By law, the deadline cannot be waived or extended.
There are 30 states with rail transit systems which need FTA certification by the April 15, 2019, deadline. An online certification status table shows that to date, eight states have received certification with the remainder at various stages of the process.
FTA strongly recommends that states submit their certification applications as soon as possible. States should not assume that applications submitted after September 30, 2018, will be certified by the deadline.
Since 2013, FTA has provided approximately $112.4 million in grant funds to eligible states to develop and implement a SSO Program that is compliant with federal requirements.
About the Federal Transit Administration
The Federal Transit Administration (FTA) provides financial and technical assistance to local public transit systems, including buses, subways, light rail, commuter rail, trolleys and ferries. FTA also oversees safety measures and helps develop next-generation technology research.