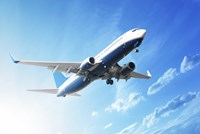 As part of the Obama Administration's historic effort to normalize relations with Cuba, U.S. Transportation Secretary Anthony Foxx today arrived in Cuba on the first scheduled flight to the island in over 50 years, a JetBlue Airways flight from Fort Lauderdale to Santa Clara. In addition, the U.S. Department of Transportation (DOT) today finalized its selection of eight U.S. airlines to begin scheduled flights to Havana as early as this fall.
"Today's actions are the result of months of work by airlines, cities, the U.S. government, and many others toward delivering on President Obama's promise to reengage with Cuba," said Secretary Foxx. "Transportation has a unique role in this historic initiative and we look forward to the benefits these new services will provide to those eligible for Cuba travel."
Earlier this summer, DOT announced the approval of six U.S. passenger airlines and one all-cargo airline to serve cities in Cuba other than Havana. The additional carriers are expected to begin flights to those cities shortly.
Airlines receiving the Havana awards include network, low-cost, and ultra low cost carriers – Alaska Airlines, American Airlines, Delta Air Lines, Frontier Airlines, JetBlue Airways, Southwest Airlines, Spirit Airlines, and United Airlines. The flights will provide service to Havana from Atlanta, Charlotte, Fort Lauderdale, Houston, Los Angeles, Miami, Newark, New York City, Orlando, and Tampa.
The Department's principal objective in making its selections was to maximize public benefits, including choosing airlines that offered and could maintain the best service between the U.S. and Havana. DOT's decision allocates nonstop Havana service to areas with substantial Cuban-American populations, as well as to several aviation hub cities.
On February 16, 2016, Secretary Foxx signed an arrangement with the Cuban government opening the way for scheduled air service between the two countries to resume after more than 50 years. This new arrangement will facilitate visits for travelers that fall under one of 12 categories authorized by the U.S. Department of the Treasury's Office of Foreign Assets Control (OFAC). At the time of the signing, the administration announced that scheduled service would begin later in 2016.
Under the arrangement, each country's airlines may operate up to 20 daily roundtrip flights between the U.S. and Havana. The arrangement also provides each country's airlines with the opportunity to operate up to 10 daily roundtrip flights between the U.S. and each of Cuba's nine international airports, other than Havana, for a total of 90 daily roundtrips.
About The US Department of Transportation (DOT)
The mission of the Department is to:
Serve the United States by ensuring a fast, safe, efficient, accessible and convenient transportation system that meets our vital national interests and enhances the quality of life of the American people, today and into the future.