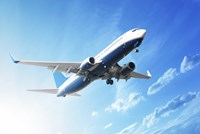 U.S. Transportation Secretary Anthony Foxx and NASA Administrator Charles Bolden today were joined by representatives from the Department of Transportation's Federal Aviation Administration (FAA), National Air Traffic Controllers Association (NATCA), American Airlines, and the Charlotte Douglas International Airport (CLT) to celebrate the official opening of a new airspace technology demonstration (ATD-2) laboratory. This laboratory is part of a five-year test project aimed to streamline the arrival and departure of aircraft and improve surface operations to increase safety and efficiency and reduce fuel use in our nation's aviation system.
The ATD-2 project, part of the Obama Administration's NextGen initiative, is the next major step in both the DOT and NASA's efforts to create the air transportation system of the future. This initiative will provide coordinated schedules between the ramp, tower, terminal and center control facilities, giving air traffic managers the tools to make better decisions about how to reduce congestion. ATD-2 will also help to ensure that our future aviation system is able to absorb the more than four billion additional passengers that are estimated to be traveling globally over the next 20 years without compromising the safety of our skies.
"Today is a great moment for the city of Charlotte, for air travelers, and our environment," said Transportation Secretary Anthony Foxx. "As a son of this city and this state with its special history with modern flight, I'm thrilled that Charlotte Douglas International Airport is at the forefront of this innovative partnership between DOT and NASA that will have a transformative and lasting impact on aviation."
NASA is committed to transforming aviation by dramatically reducing its environmental impact, maintaining safety in more crowded skies and paving the way to revolutionary aircraft shapes and propulsion. The Agency projects that its green aviation initiatives could save the commercial airline industry as much as $255 billion over the next 25 years.
"Imagine being able to spend less time pushing back from the gate, taxiing to the runway and taking off," said NASA Administrator Charles Bolden. "The work that will be accomplished in this demonstration lab could be a game changer in terms of reducing airport congestion, which is good for passengers and for business. It's also good for the environment, as engines spend less time running on the ground."
"The Airspace Technology Demonstration-2 (ATD-2) project is an excellent example of what strong partnerships can yield," said Jack Christine, deputy aviation director of Charlotte Douglas International Airport. "This program will deliver operational and environmental benefits, as well as improve the passenger experience at Charlotte Douglas International Airport. We look forward to working with all of our partners to make this demonstration a reality."
Projects such as ATD-2 are part of the 21st Century Clean Transportation System, championed by President Obama, and consist of smart, strategic integrated investments to help reduce carbon pollution and strengthen the economy. A new approach to the transportation system can help American industry and the public by improving how goods are moved and creating transportation choices for more people, all while reducing reliance on fossil fuels, cutting carbon pollution and strengthening resilience to the impacts of climate change.
Charlotte Douglas International Airport is one of the busiest airports in the U.S. with almost 45 million passengers flying through it annually. The airport is the second busiest hub for American Airlines, which operates about 90 percent of the airport's approximately 700 daily flights. Testing ATD-2 at the Charlotte airport will demonstrate how the system can help balance air traffic at smaller and larger airports with intersecting air traffic routes.
About The US Department of Transportation (DOT)
The mission of The US Department of Transportation is to serve the United States by ensuring a fast, safe, efficient, accessible andconvenient transportation system that meets our vital national interests and enhances the quality of life of the American people, today and into the future.