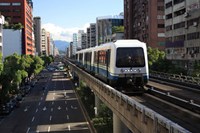 The U.S. Department of Transportation's (DOT) Federal Railroad Administration (FRA) today awarded $25 million in grants for 11 projects in six states and the District of Columbia to assist in implementing Positive Train Control (PTC). FRA received 30 eligible applications requesting $90.6 million, nearly four times the $25 million Congress provided in the appropriations bill that funds the FRA for Fiscal Year 2016. The list of awards is below. Many awards will help railroads achieve interoperability among the different PTC systems that railroads are deploying.
"These grants get us a bit closer to implementing Positive Train Control – a long overdue technology that prevents accidents and saves lives," said U.S. Transportation Secretary Anthony Foxx. "We will continue to do everything in our power to help railroads install this technology. We encourage Congress to fully fund the President's request for significant funds to help more railroads activate PTC."
PTC systems are designed to prevent certain train-to-train collisions, over-speed derailments, incursions into established work zone limits, and trains going to the wrong tracks due to improper switching.
"Every dollar we invest in implementing Positive Train Control as quickly as possible is money well spent because ultimately it means fewer accidents and fewer fatalities," said FRA Administrator Sarah E. Feinberg. "Today's grants inch us closer to a safer rail network with PTC."
In 2008, Congress mandated PTC implementation on the main lines of Class I railroads and entities providing regularly scheduled intercity or commuter rail passenger transportation over which any poisonous or toxic by inhalation hazardous materials are transported, or over which intercity or commuter rail passenger transportation is regularly provided. Last October, Congress extended the original PTC implementation deadline from December 31, 2015 to at least December 31, 2018.
FRA awarded grants in the approximate amounts below to the following entities:
Metrolink – Calif.

$2.4 million to develop, test, and deploy a full-feature service desk management suite of software applications that will allow each railroad to create, track, manage and share PTC system and asset trouble tickets internally within the organization and with interoperable railroad partners.

Sonoma-Marin Area Rail Transit (SMART) District – Calif.

$3 million to install PTC and integrated new grade crossing warning systems on the 2.1-mile passenger rail extension between downtown San Rafael and Larkspur, Calif.

Caltrain – Calif.

$2.88 million to conduct two test procedures for the field integration and functional testing of Caltrain's Interoperable-Incremental Train Control System (I-ITCS) that will allow Interoperable Electronic Train Management System (I-ETMS) equipped tenants to seamlessly operate on Caltrain's tracks.

Amtrak – D.C.

$2.64 million to put in place authentication technology to fully secure the PTC wireless communication and data transmittal between a train's point of origin and targeted receivers on the Northeast Corridor.

American Short Line and Regional Railroad Association – D.C.

$2.5 million to create a Crew Initialization Back Office Server System (CI-BOS) hosted service to assist small railroads tasked with implementing PTC, particularly systems that interoperate with Class I railroads.

Providence and Worcester Railroad Company (P&W) – Mass.

$965,832 to acquire and install eight Advanced Civil Speed Enforcement System (ACSES) PTC onboard units for P&W's locomotives utilized on Amtrak's Northeast Corridor.

Twin Cities & Western Railroad Company – Minn.

$1.1 million to implement and test PTC systems, including a contract with a back office service and interoperability message software provider, initial activation and licensing fees of hosted back office systems, and two PTC equipped locomotives.

Missouri Department of Transportation – Mo.

$3 million to jointly partner with the Terminal Railroad Association of St. Louis (TRRA) for an Interoperable Electronic Train Management System (I-ETMS) implementation project on the Missouri side of TRRA's territory.

North Carolina Department of Transportation – N.C.

$771,070 to equip five converted Cab Control Units with Interoperable Electronic Train Management System (I-ETMS) and conduct testing on the Piedmont corridor or within any adjacent rail territory of NCDOT's rail partners (Norfolk Southern Corporation and Amtrak).

Capital Metropolitan Transportation Authority – Texas

$3 million to implement Enhanced Automatic Train Control (E-ATC) that will overlay the existing wayside signal system and enhance onboard, wayside, and control office equipment and software to create a functional PTC system in the Austin area.

Fort Worth & Western Railroad – Texas

$2.56 million to install PTC on-board equipment and 220 MHz radios on nine locomotives in a phased installation, develop a crew initialization back office server, and train necessary personnel to operate and maintain the PTC system.
Since 2008, FRA has provided significant assistance to support PTC implementation. Those efforts include:
Providing more than $650 million in grants to passenger railroads, including nearly $400 million in American Recovery and Reinvestment Act of 2009 funding;
Issuing a nearly $1 billion loan to the New York Metropolitan Transportation Authority to implement PTC on the Long Island Rail Road and Metro-North Railroad;
Building a PTC system testbed at the Transportation Technology Center in Pueblo, Colorado;
Working directly with the Federal Communications Commission and the Advisory Council on Historic Preservation to resolve issues related to spectrum use and improve the approval process for PTC communication towers; and
Dedicating staff to work on PTC implementation, including establishing a PTC task force.
About The US Department of Transportation