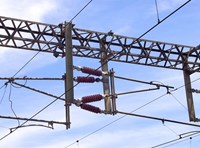 The Federal Railroad Administration (FRA) today awarded $25 million in grants to increase safety at railroad crossings, train stations, and tracks across the country. A total of 23 projects in 14 states and the District of Columbia received funding. FRA received 40 eligible applications requesting $67.5 million, nearly three times the $25 million that Congress provided in the 2016 Consolidated Appropriations Act that funds DOT.
"It is vitally important that we invest in safety as rail continues to play an increasingly larger role in this country, transporting tons of freight and millions of passengers each day," said U.S. Transportation Secretary Anthony Foxx. "These grants will help address some of the improvements that are crucial to ensuring safe, reliable and efficient railroad networks."
The Railroad Safety Infrastructure Improvement Grants fund safety improvements to railroad infrastructure, including the acquisition, improvement, or rehabilitation of intermodal facilities; improvements to track, bridges, rail yards, and tunnels; upgrades to railroad crossings; and the separation of railroad crossings and roads.
"A safe railroad network requires continuous investment and upgrades," said FRA Administrator Sarah E. Feinberg. "These grants will improve safety at hundreds of railroad crossings and make important safety upgrades at stations across the country. This is an investment that is desperately needed – and I urge state DOTs to join the FRA in investing more in improving safety at crossings."
FRA requested $520 million for competitive local rail facility and safety project grants as part of President Obama's Fiscal Year 2017 budget proposal.
FRA awarded Fiscal Year 2016 grants in the amounts below to the following entities to make improvements to:
Railroad Crossings
Peninsula Corridor Joint Powers Board – Calif.
$1.06 million to install new safety measures at 10 grade crossings, including medians, traffic signal preemption, fences, gates, curbs, lighting, and signs along the commuter rail line in San Mateo, Santa Clara, and San Francisco counties. More than 12,000 vehicles traverse these crossings each day. The 10 crossings are:

Broadway (Burlingame)
Mary Avenue (Sunnyvale)
Ravenswood Avenue (Menlo Park)
Rengstorff Avenue (Mountain View)
Charleston Road (Palo Alto)
Castro Street (Mountain View)
Peninsula Avenue (Burlingame)
Alma Street (Palo Alto)
16th Street (San Francisco)
4th Street (San Mateo)
Indiana Rail Road Co. – Ind.
$129,537 to make improvements at 321 grade crossings in 10 Indiana and Illinois counties (Marion County, Ind.; Greene County, Ind.; Johnson County, Ind.; Monroe County, Ind.; Vigo County, Ind.; Daviess County, Ind.; Sullivan County, Ind.; Brown County, Ind.; Crawford County, Ill.; Jasper County, Ill.) by clearing trees, brush, and other vegetation from 201 railroad highway grade crossings and installing grade crossing warning signs that include stop signs at 120 private road crossings intersecting with the Indiana Railroad.
Indiana Department of Transportation – Ind.
$640,000 to upgrade four major at-risk grade crossings with improvements that include flashing signals, over-lane cantilevers, automatic gates, constant warning time circuitry, and warning bells. The four crossings are:

SR #64 (Oakland City)
Kilgore Avenue (Muncie)
SR #49/Knapp Road (Wheatfield)
US #41 (Shelburn)
Iberville Parish Government – La.
$385,000 to improve two Iberville Parish grade crossings by installing railway signals and gates, as well as reconstructing the roadway approaches and railway crossings to provide safe access to residential subdivisions, industrial sites, and farming operations. The two crossing are:

Dorsey Road (White Castle)
Lacroix Road (White Castle)
Maryland Department of Transportation – Md.
$700,000 to improve four sequential, private grade crossings in Rosedale, Md. by installing automated half-roadway gates, bells, and lights to reduce the risk of serious truck-train accidents along an active 1.87-mile freight rail line in a busy industrial area northeast of Baltimore, Md. The four crossings are:

68th Street (Rosedale)External Link
Batavia Farms Road (Rosedale) External Link
Schaefers Lane (Rosedale) External Link
Contractors Road (Rosedale)External Link
City of Buffalo – Minn.
$160,422 to upgrade a single grade crossing at 2nd Street South and Canadian Pacific Railroad in Buffalo, which includes installing updated advanced warning signs, a new raised median, a new warning signal, updated crossing arms, and pedestrian safety improvements.

2nd Street South (Buffalo)External Link
St. Louis and Lake Counties Regional Railroad Authority – Minn.
$374,598 to replace and upgrade the warning systems at four grade crossings along a passenger excursion line in Duluth to improve pedestrian safety and mitigate the risks associated with cars idling over the tracks. The four crossings are:

45th Avenue (Duluth)
Railroad Street (Duluth)
47th Avenue (Duluth)
McCulloch Street (Duluth)
New York State Department of Transportation – N.Y.
$1.34 million to add highway traffic signal preemption to seven grade crossings on Metro-North's Harlem and Port Jervis Lines in New York to activate the traffic signals at the intersections and allow queued traffic to exit onto the highway prior to the activation of the railroad grade crossing warning systems. The seven crossings are:

Cleveland Street (Vahalla)
Lakeview Avenue (Vahalla)
Stevens Avenue (Hawthorne)
Roaring Brook Road (Mt. Kisco)
Washington Avenue (Sloatsburg)
Contractors Road (Tuxedo Park)
East Village Road (Tuxedo Park)
New York State Department of Transportation – N.Y.
$1.90 million to fund installing upgrades to three grade crossings to mitigate hazardous conditions between highway and rail traffic. The Metro-North Railroad project includes upgrading the roadway, pavement markings, and signage at a heavily used grade crossing in North White Plains. The Long Island Railroad project will improve two public highway grade crossings in Deer Park and Oceanside, N.Y., with preemptive safety equipment and undertake roadway/traffic control improvements. The three crossing are:

Atlantic Avenue (Oceanside)
Executive Drive (Deer Park)
Virginia Road (North White Plains)
New York State Department of Transportation – N.Y.
$1.91 million to install CCTV cameras to record grade crossing movements at 43 identified grade crossings within Metro‐North territory in New York to investigate specific incidents and analyze crossing/traffic operations for targeted modifications to improve safety. Metro‐North Railroad and Long Island Rail Road will work separately as subsidiaries of the Metropolitan Transit Authority on this project. The 43 crossings are:

Commack Road (Deer Park)
Islip Avenue (Central Islip)
Straight Path (Wyandanch)
Stewart Avenue (Bethpage)
West Broadway (Hewlett)
Station Road (Bellport)
William Floyd Parkway (Shirley)
Glen Street (Glen Cove)
Jackson Avenue (Syosset)
Park Avenue (Huntington Station)
Cornwall Hill Road (Patterson)
Hudson Avenue (Peekskill)
Main Street/Route 311 (Patterson)
Manitou Road (Philipstown)
South Street (Pawling)
Bank Street (Wappingers Falls)
Main Street (Pawling)
Pirate Canoe Club (Poughkeepsie
Corbin Road (Pawling)
Kitchen Road (Pawling)
Virginia Road (White Plains)
Wheeler Road (Wingdale)
Cleveland Avenue (Valhalla)
Pleasant Ridge (Wingdale)
Lakeview Avenue (Valhalla)
Dover Furnace Road (Dover Plains)
Commerce Street (Vahalla)
Mill Street (Dover Plains)
Stevens Avenue (Hawthorne)
Sinpatch Road (Dover Plains)
Roaring Brook Road (Mt. Kisco)
Furnace Band Road (Wassaic)
City Water (Mt. Kisco)
Station Road (Wassaic)
Green Lane (Bedford Hills)
Jay Street (Katonah)
Municipal Plaza/Ballard Road (Sloatsburg)
Brewster Highway (Brewster)
Washington Avenue (Sloatsburg)
Dykeman Road (Brewster)
School House Road (Tuxedo Park)
Towners Road (Patterson)
East Village Road (Tuxedo Park)
Mohawk, Adirondack & Northern Railroad – N.Y.
$390,000 to resurface 10 grade crossings and replace/upgrade passive warning devices in poor condition at 35 additional crossings on the Newton Falls Branch, which extends 46.25 miles into Jefferson, Lewis, and St. Lawrence Counties (see the map below). The 10 crossings are:

S. Mechanic Street (Carthage)
Wrape Road (Carthage)
Texas Road (Croghan)
County Road 147/Rogers Crossing Road (Croghan)
Milady Road (Natural Bridge)
Jayville Road (Harrisville)
Jayville Road (Harrisville)
Coffin Mills Road (Fine)
Oswegatchie Trail Road (Oswegatchie)
Twin Lakes Road (Fine)
South Carolina Department of Commerce, Division of Public Railways – S.C.
$328,707 to upgrade seven grade crossings that serve several industries, including the South Carolina Port Authority in North Charleston. These upgrades include signals, gates, and improvements at seven tracks to provide a safer environment for motorists, pedestrians, and railroad employees. Currently, six of the tracks are at passive crossings, and the train crew flags the unprotected track at the seventh crossing when a train moves across Virginia Avenue in North Charleston, S.C.
Rail Overpasses
City of Grandview – Mo.
$3.56 million to construct a dual-track overpass for the Kansas City Southern Railroad that will increase pedestrian and motor vehicle safety measures along the interstate running underneath it, as well as improve rail safety and efficiency. After the existing single-track railroad crossing is replaced with the new double-track crossing, the city will widen Blue Ridge Boulevard to four lanes and add sidewalks under the railroad to improve pedestrian and bicyclist safety.
Rail Yards
Finger Lakes Railway – N.Y.
$500,000 to widen the track centers of Solvay Auburn Yard tracks in the Town of Geddes, along with realigning the yard ladder track and repositioning the switches to improve safe walking conditions between the yard tracks. The removal of track 4 in the Solvay Auburn Yard will provide the space for widening the track centers and include a road through the entire yard, which will address current concerns that access for emergency vehicles is restricted by close clearances and a narrow road. Finger Lakes Railway also plans to add lighting along the north side of the yard for improved visibility.
Stations
Amtrak – D.C.
$2.35 million to provide a new emergency egress stairway and fire suppression system in the North Hangar and Clayton Concourse, which serve trains moving north and south out of Washington Union Station.
Village of Cary – Ill.
$300,000 to provide channelization fencing with new signals and gates to improve crossing safety on the northwest end of the Cary Metra station platform.
Northern Indiana Commuter Transportation District – Ind.
$2.69 million to add two platform access points at the East Chicago Train Station in East Chicago, Indiana, to distribute passengers along the full length of the train to reduce congestion and improve egress operations. The project will also enhance safety and operational efficiencies, decrease passenger delays, and reduce the probability of derailments through track geometric improvements and reconstructing turnouts to increase train approach speeds from 10 m.p.h. to 40 m.p.h.
Southeastern Pennsylvania Transportation Authority (SEPTA) – Pa.
$1.61 million to construct a new pedestrian underpass and two new rail bridges at SEPTA's Lawndale Station in Philadelphia, thereby enabling passengers to access the platform without crossing the tracks at grade. The project will also include other improvements, such as a new high-level platform, new signage and fencing, new catenary, and ADA-related improvements.
Dallas Area Rapid Transit – Texas
$269,600 to provide safety improvements at 10 passenger rail stations, including safety gates to provide enhanced protection for the mobility impaired at ADA platform ramps; emergency kiosks to provide access to customer service and local law enforcement; and signage to provide concise and uniform safety messages at these stations across the Dallas project area.
Stations and Grade Crossings
City of Shelby – Mont.
$953,954 to upgrade two pedestrian and motor vehicle crossings in Shelby by extending the existing Amtrak station platform and installing fencing, signage, two quadrant gates, and wayside horn advance warning systems to provide timely and reliable access to passenger rail service, schools, and businesses.

Highway 2 (Shelby)
Galena Street (Shelby)
Tracks
San Luis Central Railroad – Ill.
$442,887 to upgrade 2.15 miles of a 13.2-mile system, resulting in a total of 7.5 miles of 90-pound rail to Class I standards, capable of operating 280,000-pound rail cars along San Luis Central Railroad's main line between Vastine and Ansel stations in Rio Grande County, Colo.
Providence and Worcester Railroad Co. – Mass.
$2.37 million to rehabilitate 12 miles of century-old rail to improve track conditions substantially with new continuous welded rail and ties along Providence and Worcester Railroad Company's Gardner Branch rail line in central Massachusetts.
Ohio Rail Development Commission – Ohio
$600,000 to upgrade 9.7 miles of track to Class II track from Hamden to Red Diamond, Ohio, on the Jackson line to provide a safe rail corridor for the transportation of hazardous materials.
About The US Department of Transportation
The mission of the Department is to serve the United States by ensuring a fast, safe, efficient, accessible and convenient transportation system that meets our vital national interests and enhances the quality of life of the American people, today and into the future.