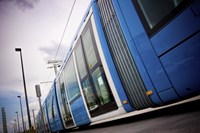 The U.S. Department of Transportation's (DOT) Federal Transit Administration (FTA) today announced an opportunity to apply for $7 million in federal funding for projects that demonstrate innovative approaches to improve safety for public transportation workers and passengers. The Safety Research & Demonstration (SRD) program supports research on new technologies and safer vehicle designs to reduce the potential for accidents.
"The safety of our transportation systems is the Department's number one priority," said U.S. Transportation Secretary Anthony Foxx. "With these new grants, FTA is funding research on cutting-edge technologies to improve the performance of public transportation, making a safe mode of travel even safer for passengers as well as those who keep the trains and buses running."
The SRD Program provides technical and financial support for transit agencies to pursue new approaches to avoid safety hazards, including exploring technologies that prevent collisions as well as those that protect transit bus operators from assault.
"The research we are funding will not only highlight new ways to ensure safety throughout our public transportation systems, but it is also intended to improve the safety culture at transit agencies," said FTA Acting Administrator Carolyn Flowers. "We believe this grant opportunity will lead the way on developing technological innovations and design modifications in areas of critical safety needs, particularly for bus operators."
For example, FTA is looking for state-of-the-art safety solutions such as automated warning systems that help bus operators avoid collisions, detect obstructions in their path or vehicle design improvements to reduce bus operator blind spots. Partly as a result of a July 2015 report from FTA's Transit Advisory Committee for Safety (TRACS), which detailed violence against public transportation workers, the agency also is seeking proposals that develop and demonstrate protection systems that prevent bus operator assaults, such as protective barriers, video surveillance systems, emergency communication systems and vehicle location systems.
FTA grantees, such as public transportation agencies and state departments of transportation are eligible to apply, and are encouraged to partner with for-profit companies, nonprofit organizations and other state or local entities. Applications are due by October 14, 2016.
The SRD program is one of FTA's public transportation innovation programs authorized under the Fixing America's Surface Transportation (FAST) Act, which established requirements to improve the safety of public transportation systems nationwide.
The 2016 funding opportunity is the latest round of grants promoting transit safety through new technologies. In 2015, FTA provided $29 million to 13 organizations for research as part of Innovative Safety, Resiliency, and All-Hazards Emergency Response and Recovery Demonstration funding.
About The US Department of Transportation
The mission of The US Department of Transportation is to serve the United States by ensuring a fast, safe, efficient, accessible andconvenient transportation system that meets our vital national interests and enhances the quality of life of the American people, today and into the future.