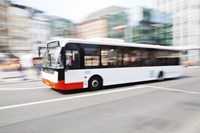 The U.S. Department of Transportation's Federal Transit Administration (FTA) today announced the selections for its Bus and Bus Facilities Grant Program that will help provide more modern, reliable bus service for transit riders across the country. Sixty one projects in 41 states, the Virgin Islands, and Indian Country will receive a share of nearly $211 million to replace, rehabilitate, and purchase transit buses and related equipment, and construct bus-related facilities. A list of the selected projects is available online.
"The Obama Administration is committed to improving transportation options that connect people in rural and urban areas across the country to opportunities," said U.S. Transportation Secretary Anthony Foxx. "These grants will improve mobility for thousands of transit riders who depend on bus service every day, expanding access to employment, education, healthcare, and other important services in their communities."
Selected projects include those that replace, rehabilitate, and purchase buses and related equipment as well as projects to purchase, rehabilitate and construct bus-related facilities, such as buildings for bus storage and maintenance.
"FTA is proud to partner with state, local and tribal authorities to invest in projects that will help improve the condition of our nation's public transportation bus fleets," said FTA Acting Administrator Carolyn Flowers. "Maintaining our public transit systems in a state of good repair is vitally important to meet the needs of today's transit riders and a growing population."
Among the projects selected to receive 2016 Bus Program funding:
The Kentucky Transportation Cabinet will receive approximately $5.8 million for the expansion and replacement of transit vehicles that serve rural counties throughout the state;
The Mass Transportation Authority in Flint, Michigan, will receive $12.8 million for the purchase of Compressed Natural Gas (CNG) buses and a workforce development training program for mechanics and bus drivers; and
The Southeastern Pennsylvania Transportation Authority (SEPTA) will receive $4 million to rehabilitate the Wissahickon Transit Center on the Manayunk/Norristown Line in Northwest Philadelphia.
Demand for FTA's Bus Program far exceeded available funds, as FTA received 284 applications totaling $1.64 billion from 236 applicants in 47 states. Project proposals were evaluated based on criteria outlined in the Notice of Funding Opportunity, with priority given to projects that address significant repair and maintenance needs, improve the safety of transit systems, include advanced technologies to connect bus systems with other networks, and support the creation of ladders of opportunity.
The Fixing America's Surface Transportation (FAST) Act, passed by Congress and signed into law by President Obama in December 2015, authorized FTA's competitive Bus and Bus Facilities Grant Program through 2020.
About The US Department of Transportation
The mission of the Department is to serve the United States by ensuring a fast, safe, efficient, accessible and convenient transportation system that meets our vital national interests and enhances the quality of life of the American people, today and into the future.